Before President Trump took the stage on Thursday night at a rally in Grand Rapids, Michigan, his very largest adult son Don Jr. warmed up the crowd, doing what he does best: telling bad jokes about Democrats in the weird, throaty screech that is his "campaign" voice. And it's clear that, moving into 2020 with a resurgent left flank of the Democratic Party, Don Jr. is looking for a new villain and seems to have found one in Alexandria Ocasio-Cortez.
Ana Gasteyer Satirizes the Girl Boss in 'American Auto'
"Think about the fact that every mainstream, leading Democratic contender is taking the advice of a freshman congresswoman who three weeks ago didn't know the three branches of government," Trump said, referring to the Green New Deal that Ocasio-Cortez has championed. The crowd laughed and booed. "I don't know about you guys, but that's pretty scary!"
Then, inspired, the crowd began to chant "AOC sucks":
G/O Media may get a commission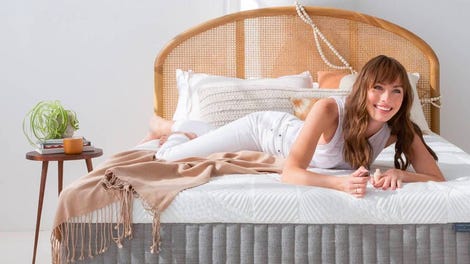 Sleep Sale
Sleep Sale - Brentwood Home
"You guys, you're not very nice," Don Jr. said. "And neither is what [the Green New Deal] would do to this country."
As Isaac Stanley-Becker noted in the Washington Post, "The chant reverberated at the Trump rally as a possible catchphrase for 2020, swapping out one female villain for another. It testified to the first-term congresswoman's rapid ascent to GOP public enemy No. 1, a position that took Clinton slightly longer to reach."
The Republican obsession with (and fear of) Ocasio-Cortez has reached levels of such absurdity that an uninspired schoolyard chant is a natural next step, symbolizing how powerless right-wing cynics are in the face of Ocasio-Cortez's popularity.
A spokesperson for Ocasio-Cortez is unbothered. From the Washington Post:
Corbin Trent, a spokesman for Ocasio-Cortez, dismissed the 41-year-old as a "minion" for his father.

"I don't watch garbage television, so I was unaware of it," Trent said in a phone interview. "When reality TV gets into the White House, then things get a little weird, don't they?"
They do.