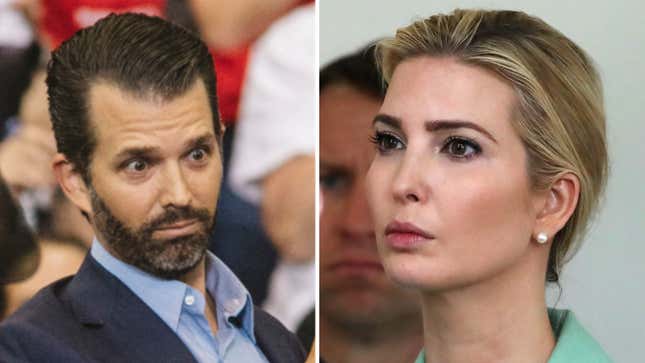 Ivanka and Don Jr. clearly loathe one another, which is perfectly reasonable considering they are locked in an epic and ultimately futile battle for their narcissist daddy's approval. Their latest sibling battle? Gun control.
Olivia Holt Didn't Originally Get the Part of Roxie Hart in 'Chicago'
More, from Politico:
On one side is Ivanka Trump, the president's daughter and adviser, and Attorney General William Barr. Both are urging the president to back new firearms restrictions — including expanded background checks for gun sales — insisting he can be the leader who succeeds on an intractable issue that has bedeviled his predecessors and that he can win back moderate suburban voters in the process, according to people involved in the discussions.

On the other side, a group that includes Donald Trump Jr., the president's son and an avid hunter, and a top aide to acting White House chief of staff Mick Mulvaney, is telling Trump he risks losing support from his conservative base if he pushes too aggressively on new gun control legislation, they say.
According to Politico, Ivanka has been in talks with senators from both parties in an effort to push for needed, if wholly insufficient, gun restrictions. It's understandable why she'd take up the issue—mass shootings are bad press for her, after all, and she probably figures it will endear her to the suburban white women the Trump administration partially depends on to retain power. But some senators are skeptical that she'll succeed. (Which is the correct response any time Ivanka attempts something.) "I have spoken with her about it, but I don't know what role she's playing at the White House," Republican Senator Pat Toomey told Politico. And then there's this tidbit:
One senator who spoke to the president's daughter about gun legislation said the first daughter made it clear she wanted to do something on the issue, but did not reveal a specific opinion.
While Ivanka has been attempting to play-act being someone with substance, Don Jr., whom the president has called "my gun expert," has been doing exactly what one would expect—meeting with groups like the National Rifle Association, all in an effort to curtail even minimal reforms like red flag laws.
All of this sibling wrangling is likely meaningless, given that Donald Trump, for his part, doesn't seem all that committed to doing anything. He made this rambling statement on Sunday: "We're looking at it right now, we're studying it very hard, and it's an issue that, frankly, Congress is wasting all their time on—nonsense—and we're studying it very hard. If Congress would get back to work, we could work something, but Congress is doing all of this nonsense, this garbage they're doing, and I'll tell you what, they don't have any time."
Okay!