Has anyone out there reading this on the Internet ever heard of this Miley Cyrus person? I think she may have been on the teevee a ways back. Well, she's mostly important because Dolly Parton is talking about her.
Dolly, as you well know if you get the Dollywood Lifetime Member Fan Club Newsletter as some of us super-elite media players do, is Miley's godmother. In case you're wondering if Dolly is going all godSMOTHER on Miley, the answer is a resounding nope, kthanx.
Dolly tells the London Evening Standard:
"I don't think people really realize yet what a great singer and writer she really is."

Parton insisted she did not need to give Cyrus career advice, saying: "She's just trying to find her own place and wings and learn to fly."
Wait, but for real Dolly, you don't have umpteen thousand things to say about how she dresses, what she sings, her tongue, what she tweets, what she is photographed doing, what she eats for dinn—
I know that she has thought this all through. We'll let her go and do her own thing....If she needs my opinion on something I will surely give it and there have been times we've talked.

But I would never dream of calling her and saying, 'Well why are you doing this?' or, 'You shouldn't do this or that.'
G/O Media may get a commission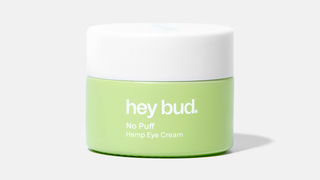 15% off
Hey Bud - No Puff Hemp Eye Cream
Dolly, I think I speak for the rest of America, if not all human beings or entities composed of the precise cellular combinations that form sentient life YOU CAN TELL US WHAT TO DO ANYTIME, ANYWHERE. Seriously. I'm fairly certain my life would be infinitely better than it currently is (dude, the only way to go is up on this one) if I had Dolly Parton life coaching me. Because you know Dolly would life coach the shit out of you. A weekend with Dolly and I bet my credit rating would probably go up 350 points.
---
Oh, Halloween came and went and you still don't know that MC Hammer sang the theme to The Addams Family? Christina Ricci is seriously side-eyeing you right now.
Image via Getty Images