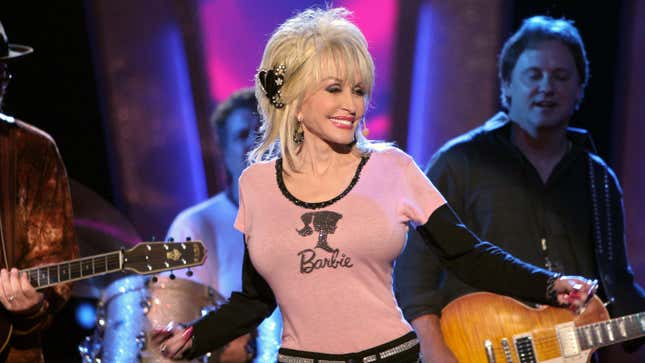 In 2002, Mattel sued MCA Records over Aqua's 1997 international hit "Barbie Girl," claiming that the song violated and tarnished what Barbie stood for. The judge dismissed the case, ruling that the song was protected by parody law, but not before iconically concluding, "The parties are advised to chill."
Fast-forward 20 years, and it's safe to say, amid the obsessive and incessant rollout of the Barbie movie and its accompanying soundtrack, that advice has not been taken. (Nor should it be! "Being chill" is aesthetically antithetical to Barbie and everything she stands for.) The album, in particular, is produced by legendary sapiosexual Mark Ronson and has its own Instagram page and website, while boasting a who's who of popular musicians: Lizzo, Nick Minaj, Ice Spice, Chari XCX, Karol G, Khalid, and Dua Lipa are just some of the confirmed artists, and a few have already released their singles.
It's an impressive list, sure, but it's clearly an incomplete one. Luckily, Ronson reassured worried future viewers/listeners that there's more to come.
In an interview with Time on Thursday, Ronson dished on the creation of the album, how he convinced artists to take part in it, and how he, director Greta Gerwig, and writer Noah Baumbach decided on the tone of the tracks. Ronson revealed that, despite the impressive lineup, there are two songs and artists that have yet to be revealed and teased that "one of the artists is obviously one of the f-cking greatest living artists around but also had a very personal, idiosyncratic tie to Barbie as well." Phew.
Within the hour, Billie Eilish announced via Instagram that she wrote a song, "What Was I Made For?," for the soundtrack. She then reposted Ronson's quote about "one of the f-cking greatest living artists around" with the tears-welling-in-the-eyes emoji and a bunch of (anatomically correct) heart emojis. With all due respect to Ms. Eilish, we are simply not sure this was in reference to you!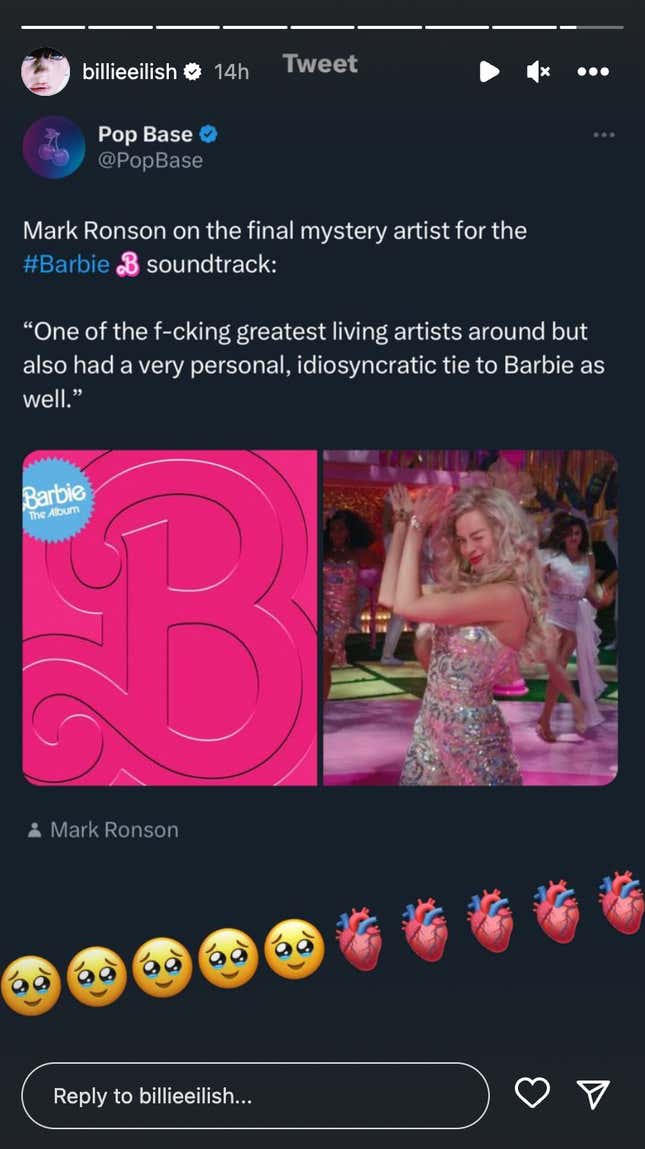 Idiosyncratic ties? Sure. The former goth with highlighter green hair isn't the first person you might associate with Mattel's material woman. But Eilish is 21 years old, and while she's off to a strong start, I don't think you can be considered one of the best artists of all time if you're still eligible for your parents' health insurance. Plus, according to Ronson, it seems we still have one more musician to be revealed...
This leads me to offer up, again, the only plausible candidate to fill the mystery slot: Dolly Rebecca Parton. The great artist of all time? Check. Personal and idiosyncratic connection to Barbie? Might I remind you that Parton's 2008 album, the first on her own label and her return to country, was titled Backwoods Barbie. Also she literally has the word "Doll" in her name.
The high-camp white-trash (non-derogatory) country folk glam rocker is the only acceptable addition to this stacked lineup. "I'm just a backwoods Barbie, too much makeup, too much hair /Don't be fooled by thinkin' that the goods are not all there / Don't let these false eyelashes lead you to believe that/ I'm as shallow as I look 'cause I run true and deep." I'm not fooled, Dolly. I believe it's gonna be you.