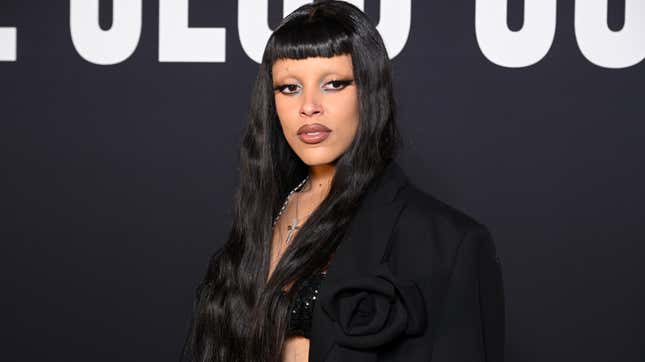 Doja Cat—everyone's favorite (least favorite?) quirky popstar—is at it again, doubling down on her feud with fans who called her out last month after she made hurtful comments about them. In response to losing roughly 200,000 followers on Instagram after (among other things) telling her fans to "get a job," she wrote on Instagram this week, "Seeing all these people unfollow makes me feel like I've defeated a large beast that's been holding me down for so long and it feels like I can reconnect with the people who really matter and love me for who i am and not for who i was."

We're watching the once-beloved rapper badly lose what the chronically online might call an "IDGAF war"—except in this scenario, no one else is trying to prove how little they care.
The breakdown between Doja and her fans has been quite a sight to behold in recent weeks. It seemed to start with Doja insisting last month that her fan base doesn't have a name: "My fans don't get to name themselves shit… If you call yourself a 'Kitten' or f–king 'Kittenz' that means you need to get off your phone and get a job and help your parents with the house," she wrote on Threads. Things only escalated when her fans asked if she loved them, to which she replied, "I don't though because I don't even know y'all."
Doja has also managed to alienate her fans via her personal life: She's been dating controversial social media influencer and former Twitch streamer J. (Jeffrey) Cyrus since at least last fall. Cyrus has been accused of emotional abuse toward female co-workers, as well as having predatory online conversations with young women. On July 24, she wrote on Instagram: "I WANT YALL TO READ THIS COMMENT AND TAKE IT AS A MESSAGE. I DONT GIVE A F*CK WHAT YOU THINK ABOUT MY PERSONAL LIFE I NEVER HAVE AND NEVER WILL GIVE A F*CK WHAT YOU THINK ABOUT ME OR MY PERSONAL LIFE GOODBYE AND GOOD RIDDANCE MISERABLE HOES НАНА!" So perhaps the actual origin of Doja's falling out with her followers is less about the name "kittenz," and more about standing by her man.
Fast forward to this week, when an interview she did with Harper's Bazaar was published, in which she commented on her love life. After referencing an experience at a comedy club "with one of my boyfriends," Harper's asked Doja if she "[creates] room for love in your life," to which she responded: "I'm possibly a serial dater. I definitely have had that in me a little bit. But right now I'm in a different place in my life where I am very committed and very much in love in a different way than before."
Doja continued, "I think I've evolved. I'm learning to love myself, so the way that I love other people is very different. I don't feel like a lost little teen. I feel like a woman who is coming into her own."
So, the fact that this week Doja publicly celebrated losing hundreds of thousands of followers and expressed that she's "very much in love" with a man her followers very much hate, is a pretty telling status update on where things stand between her and her fans. I doubt the hatchet is getting buried any time soon.