Ikea is for broke bitches. Wayfair is for broke bitches who like patio furniture. West Elm is for slightly less broke bitches who have decent credit and low-key live beyond their means. Custom curtains that cost $52,701 are for Nikki Haley, United States ambassador to the United Nations.

The New York Times reports that the curtains in Haley's official residence in New York residence "cost $29,900, while the motors and hardware needed to open and close them automatically cost $22,801." This almost makes Ben Carson's $31,000 dinning room set and Scott Pruitt's $43,000 sound proof phone booth look frugal. Very good.
These curtains were installed when the State Department underwent a hiring freeze, senior diplomats were fired, and there was a proposal to cut the department's budget by over 30 percent. But nice curtains are important, too.
A spokesman for Haley told the Times that plans to purchase the curtains were made in 2016, under the Obama administration, and that Haley had no say in the matter. Strangely, this administration seems to be looking under every rock for places to cut funding across the federal government, but mostly landed on funding for food assistance and climate change. Not curtains!
And the Times also had a chance to talk to Patrick Kennedy, a management official at the State Department during Obama's tenure, who thinks the curtains are good, actually:
But Mr. Kennedy defended the purchase, saying that it would probably be used for years and that it was needed for both security and entertaining purposes.

"All she's got is a part-time maid, and the ability to open and close the curtains quickly is important," Mr. Kennedy said.
G/O Media may get a commission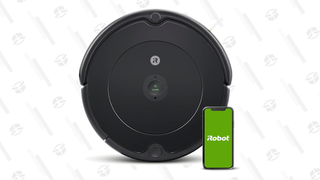 35% Off Black Friday Deal
iRobot Roomba 694 Robot Vacuum
Oh, also: Nikki Haley's monthly rent in that apartment is reportedly $58,000 a month, according to the Times. That's a lot of curtains.