Friday was the hundredth birthday of film legend Olivia de Havilland, who's still very much alive in Paris. She apparently decided to celebrate this milestone by discussing her legendarily complicated relationship with her sister, Joan Fontaine, with the Associated Press.
Conciliatory or withering? You decide.
Fontaine and de Havilland were combatants in one of the most notorious feuds in Hollywood history, recently the subject of a Vanity Fair article. As with most show-biz feuds, there's some question as to how much of the conflict was real and how much was a media creation. The Telegraph notes that perhaps the best evidence for it is a 1978 interview Joan Fontaine gave People magazine while promoting her memoirs—though later in life she'd say there was no feud.
For her part, De Havilland has the reputation of keeping quiet about the affair—which makes the AP interview tied to her birthday that much better. Some centenarians, asked about a famous conflict from their past, might simply shrug and say, "Oh, well, that was so long ago," and move the conversation right along—especially considering that Fontaine has been dead since 2013. Not this time!
G/O Media may get a commission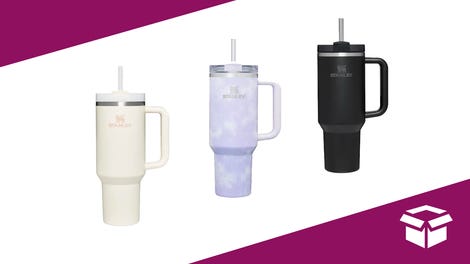 Up to 45% off
Stanley Cup Sale
De Havilland credited the "legend of a feud" to a 1942 Life magazine article, "Sister Act," written after they went head to head in the Oscars. (Fontaine won, for Suspicion.) Then she had this to say, which could read as denial of a full-on feud, or as quietly brutal.
"A feud implies continuing hostile conduct between two parties. I cannot think of a single instance wherein I initiated hostile behavior," she said.

"But I can think of many occasions where my reaction to deliberately inconsiderate behavior was defensive," she added.
She's not done yet!
"On my part, it was always loving, but sometimes estranged and, in the later years, severed," she said, succinctly.

"Dragon Lady, as I eventually decided to call her, was a brilliant, multi-talented person, but with an astigmatism in her perception of people and events which often caused her to react in an unfair and even injurious way," she said.
Nope, still not done: "If Dragon Lady were alive today (for my birthday), out of self-protection I would maintain my silence!" she added.

Is she dragging her sister, reminiscing upon a complicated relationship, or just playing to the crowd with a nod and a wink one more time? Who's to say? But if you think that's harsh, read about what she did to the studio system with her 1944 lawsuit against Warner Brothers. (She fucked it up good, that's what.) Olivia de Havilland is not Melanie Wilkes, that's for damn sure. But she's definitely a national treasure.