"I have too much jewelry," said no woman ever!
I love to make jewelry and one of the best parts about wearing something that you've made yourself is bragging about it when someone asks, "Hey, where did you get that?" "I made it!" (Pause as they stand in amazement of your talents.) Plus, it's not that expensive to make something that looks expensive. This weekend, instead of spending $5 on necklace that is going to turn your skin green after one night of dancing, make my $5 crystal necklace instead.
Tools (not included in the cost):
Ruler with millimeters
Needle nose pliers
Wire cutters
Supplies (all found at Michael's):
Brass Link Chain (24-36 in depending on desired length) $1.99
Strand of clear center drilled glass beads $2.49
Brass Head pins $.30
It's possible to get this stuff even cheaper — craft stores are crazy about coupons and discounts.
Step 1
Measure and cut two 30mm chains
Step 2
Thread one bead onto a head pin.
Round the end and trim so you are left with a nice round circle, but do not close it. Trim off the excess end of the pin.
Add the two 30mm chains and close loop with pliers.
G/O Media may get a commission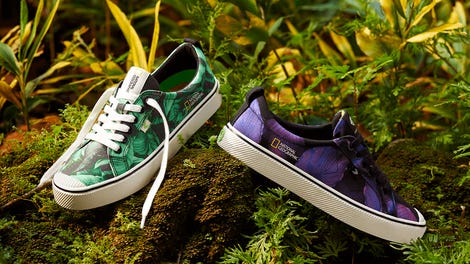 New New New
Cariuma + National Geographic
Step 3
Cut the head off one pin to create a straight pin. Ready a bead to be threaded onto this pin.
Cut a length of chain at least long enough to go over your head. Lay everything out like so:
Step 4
Make a loop on one end of the pin, thread the long chain and one of the short chains onto it and close the loop.
Add a bead to the pin.
Repeat on the other end of the pin by creating a loop, threading the other two chains onto the loop and close the loop.
There you have it!
Christina Bock owns Bella Colletta, a handcrafted jewelry line based in Chicago. She is a mom, wife, and maker of badass sparkly things.