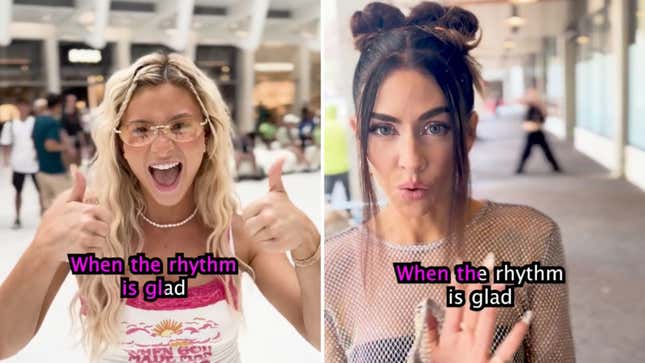 Last Friday, a late contender for Song of the Summer debuted a preview video before its official release later this month. DJ Crazy Times aka Comedian Kyle Gordon dropped "Planet of the Bass," and it took the internet by storm. DJ Crazy Time and his blonde sidekick Biljana Electronica perform a 1990s Euro-dance song parody filmed in New York City's Oculus Mall, the former site of the World Trade Center towers.

"Life, it never die/ Women are my favorite guy/ Sex, I'm wanting more/ Tell the world, 'Stop the war'" go the lyrics of the immediate bop.
Reminiscent of artists Aqua, Eiffle 65, and Vengaboys, "Planet of the Bass" has a loose grasp on English syntax and a vice grip on being the earworm of the month. I feel confident that I'm personally responsible for at least 5,000 of the song's 8.8 million current plays on Twitter.
But on Thursday, Gordon did something that made his fans question if women really are his "favorite guy." He re-released the exact same song but with a different video. This one is purportedly filmed in Croatia (not really, but it's part of the schtick), and the Ms. Biljana Electronica we'd all become parasocially obsessed with is nowhere to be seen. Our blonde Biljana, with the enviable braided bang antennae, was swapped out with a brunette rocking space buns, lip-syncing the song. The fans went mad. "Did you think we wouldn't notice you replacing her!!!!! Bring her back! Who is this imposter???" one commenter wrote.
"It is Friday in America and President Biden has yet to address the whereabouts of Ms. Biljana Electronica," Washington Post reporter Gene Park tweeted.
Even the new Biljana weighed in on the backlash. "Everybody hate me but what they do not understand is that in my country we have very old saying that make like this. These shit words cannot break the bones and it must be stones and sticks to do so very well. World peace. ✌🏼😌," the new Ms. Biljana Electronica aka Mara Olney, a health and beauty influencer, wrote in a comment. The rhythm might be glad, but I am certainly sad.
Turns out Olney wasn't the only one lip-syncing—so was the original Biljana, actor Audrey Trullinger. I need to sit down. I can't believe this musical masterpiece is triggering my Ashlee Simpson anxiety. Gordon explained to the New York Times that Grammy-winning producer Chrissi Poland is the voice behind Biljana and that both Trullinger and Olney are lip-syncing for their lives.
"How does it mean?" you might be wondering, upset at the lineup change. I don't have easy answers for you, but I do know the full song comes out on August 15. Perhaps there is hope all three women will be in the full video. That is my one true wish, aside from, of course, telling the world to stop the war.