On Tuesday, Deadline Hollywood's Nellie Andreeva dissected the swell of actors of color in television's casting rooms and leading roles, writing that minorities might be snatching too many jobs. I mean, what are the white actors supposed to do in this kind of climate?
Naturally, folks like Shonda Rhimes didn't take this thesis well.
But since this shit keeps coming up, let's talk about it.
Andreeva points out that thanks to the incredible success of Fox's Empire, starring Taraji P. Henson, Terrence Howard and Jussie Smollet (you're there for Jussie, be honest), studios are scrambling to get a piece of America tuning into minority story lines. Empire's record-breaking viewership was built upon shows like Shonda Rhimes' Grey's Anatomy, Scandal, How to Get Away With Murder and even Private Practice—remember Taye Diggs and multiple Tony Award winner Audra McDonald's struggling relationship on that show? Over on Fox, The Mindy Project has really hit its stride, CW's Jane the Virgin won a Best Actress Golden Globe and elsewhere on ABC, Kenya Barris' Black-ish starring Tracee Ellis Ross and Anthony Anderson, Cristela with Cristela Alonzo and Constance Wu and Randall Park on Fresh Off the Boat continue to pry open the door of Hollywood's traditional stronghold. But instead of celebrating, these wins signaled a siren for Andreeva. With all these people of color running around getting jobs, what's a basic blonde or out-of-work Abercrombie model to do?!
But, as is the case with any sea change, the pendulum might have swung a bit too far in the opposite direction. Instead of opening the field for actors of any race to compete for any role in a color-blind manner, there has been a significant number of parts designated as ethnic this year, making them off-limits for Caucasian actors, some agents signal. …

"Basically 50% of the roles in a pilot have to be ethnic, and the mandate goes all the way down to guest parts," one talent representative said.
G/O Media may get a commission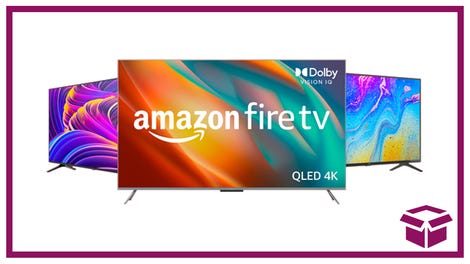 Ooh. stunning.
New Amazon Fire TVs
Someone cue up the smallest violin in the world to play Lil Jon's "I Don't Give a Fuck."
The infuriating thing about this string of statements is that the opposite is the standard bearer for Hollywood, white actors telling white stories that are supposed to appeal to every American viewer, no matter their background. But somehow, white viewers can't handle the same thinking when the material and players are diverse? I don't believe that and you shouldn't either.
Media is awash with actors of color being told by casting directors, like minority models during Fashion Week, 'We've already got one' and usually that solitary actor is depicting the friend, the neighbor or some other tertiary character. But Jane the Virgin creator Jennie Snyder Urman is proving with her show that dynamics can change for good.
"The more diversity on TV the better, you just get bored of telling the same stories with the same people through the same gaze," Snyder Urman, whose show stars Golden Globe winner Gina Rodriguez, told Jezebel. "Another show with a Latina point of view is going to be a hospital show or a legal franchise, who knows but it's going to be a different legal franchise than How to Get Away with Murder and that's interesting. How to Get Away with Murder is a legal franchise with a strong and central African American lead in Viola Davis, it's still a legal franchise but her experiences are different than, say, Ally McBeal. The more diversity we have there's also less pressure on each particular show to be a representational of everything because not every Latina girl will relate to Jane. You want a of choice of heroes on TV."
Ironically now studios are so thirsty for diversity, because it is profitable, they are even replacing white actors with thespians of color because audiences of all backgrounds are watching shows like Snyder Urman's.
For example, Deadline's Andreeva reported in January that NBC's new drama Love is a Four Letter Word, created by Asian American playwright Diana Son, originally starred a white couple but NBC requested black leads. Son agreed—get that check—and now Rockmond Dunbar of Sons of Anarchy and Soul Food is at the helm. But Andreeva isn't keen on that either because what happens when this type of casting reaches historical shows where the people were white?
ABC's medical drama pilot The Advocate was based on the story of former CAA agent Byrdie Lifson-Pompan and Dr. Valerie Ulene, who launched a healthcare consulting company. While the real-life inspiration for the two central character are both Caucasian, the show cast them with one white actress, Kim Raver, and one black, Joy Bryant.
Here's my response: Ridley Scott's Exodus: Gods and Kings.
It is more than rich to question the historical legitimacy of a story when Hollywood has spent decades whitewashing characters born from black, brown and beige subjects. From Cleopatra to A Mighty Heart, it's a sign of the times when black actors can't play their own ethnicity because some white woman like Angelina Jolie fancies herself in a curly wig. But when the tables turn, "the pendulum might have swung a bit too far." It's this kind of thinking that let two decades pass before Hollywood green lit another Asian American sitcom following Margaret Cho's All-American Girl in 1994. But now Fresh Off The Boat's Wu is heartened by her show's success and she's not giving up an inch.
"It greatly pleases me that there is already another pilot about an Asian family that is nothing like ours in the works at ABC," Wu told Jezebel. "After All-American Girl twenty years ago, we hoped there wouldn't be much time after our show, it's been one year and they're already developing another pilot—that's half the battle. Successful shows like Black-ish, Empire, How to Get Away With Murder and Scandal have non-white leads, not to say that white stories aren't important but we've had a lot of white stories for a long time. It's time to have other stories. Shows like Cristela, Jane the Virgin give me hope but I can't rest on my laurels. I still have to do a great job so that this wave will continue."
Another point of contention in Andreeva's piece is the suggestion that with all of these new shows, there aren't enough talented actors of color to fill the studio's demand for diversity. Obviously, that's ridiculously offensive and proof to the contrary is a newbie like Wu's great talent and relatability. Fresh Off the Boat is her breakout role at 26 years old, and I'm confident with all of the agents in Tinsel Town, someone is representing the next Taraji, Kerry or Gina Torres—don't forget about Suits!—but if they're stuck playing the girlfriend or prostitute, how will we find them?
What Andreeva doesn't mention but is also at stake in her argument for the status quo is that when minority actors are working, so are people of color behind the scenes.
Ultimately, diversity in front of the camera benefits everyone, even those who are so afraid they'll be displaced, because they can learn about a culture different from their own—outside of unhelpful depictions like Real Housewives of Whereverthehell.
Here's an idea, instead of thinking that people of color are infesting Hollywood based on the idea that one minority per show is more than enough: let's disabuse ourselves of these notions. Why should Richie on Looking or Erica Tazel on Justified represent every minority everywhere for viewers in places without minorities in their daily lives? Crack the status quo and accept that diversity should mean as much color—and women!—as possible because with difference there is learning, discussion and frankly, better people on the other end.
Image via Deadline Hollywood.
---
Contact the author at Hillary@jezebel.com.