On the outside, I'm all spreadsheets and enthusiasm, but on the inside, most of my adult life I've felt a swirl of depression, anxiety, and grief. When I peel back that protective layer, the reality inside is jarring for most people. What's hard for me to explain to them is that the persona I present on the outside feels just as honest as the ghosts that haunt me.

I feel most things at a 10, the good and the bad. Like many who've suffered from mental health challenges, I've found that the deeper I've fallen, the more capacity I have for joy, surprise, and delight. I've had some of my life's most beautiful days alongside some of the more devastating. The hardest part is not knowing which day you're waking up into; the necessary thing is just to try, regardless.
I've established a routine at home in Berkeley, a series of habits that add a buffer to the unknown of what mood a certain day will bring: morning coffee, the same smoothie bowl breakfast, the strange zen of adult coloring books, re-reading poetry, listening to the same podcast roundup. These routines add infrastructure to the unknowns, a bridge from inside to outside; their rhythm reminds me of who I am when I tend to lose the way.
Two months ago, I walked away from the habits that grounded my day to day. I sold my things, gave up my apartment, and packed a life into one vaguely carry-on-sized backpack. As a teenager, I had dreamily planned my future studying abroad, living in foreign lands, and cavorting in museums around the world. But as these things go, life had other plans. In my senior year of high school, my dad was diagnosed with colorectal cancer. His doctor deemed him cancer-free six months later, but in my freshman year of college, it came back. I transferred colleges to be closer to our California home, flew to see him as much as I could, and graduated early (instead of studying abroad). In September of my senior year, my mom and I held his hand as he passed away.
As I navigated a life without him the last seven years, I could feel a parallel life running its course beside mine, an idealized life full of adventure, in which I would live face to face with the unfamiliar, both in the world and in myself. And, as time passed, I eventually realized no perfect moment would present itself to take that leap. I'd have to make that moment myself. So, after years of planning and saving, I finally left the Bay Area, a series of one-way tickets ahead of me. Most of my trip is and will be spent working in temporary jobs around the globe, spending weeks at a time exchanging part-time work for room and board in the mountains of Italy, the countryside of France, the seaside of Nova Scotia. Currently, I'm working at a retreat center north of Milan with 15 other volunteers from around the world. My days are full of dishwashing, sweeping, and befriending stray Italian cats.
G/O Media may get a commission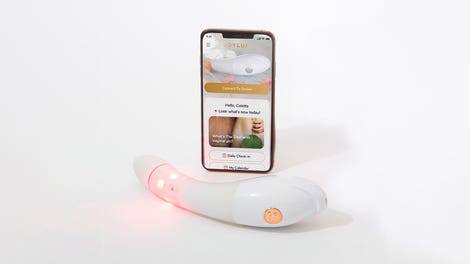 $50 Off
Joylux vFit Gold Device
I knew, of course, going into this period of travel that my infrastructure of habit would disappear (my coloring book did not make the cut of what I wanted to lug on my back for months on end). The prospect of having to rebuild that structure daily, in unknown circumstances, felt freeing. Some habits can make space for fuller expression, but some confine. I wanted to understand which was which. And the groundlessness of a habit-less life has thrown me: I've had multiple days waking up into a version of me I didn't recognize at all.
When you're already in a foreign land, feeling foreign to yourself can be deeply isolating. You have to find the constants that bring you back to yourself, like (particularly when you work in close proximity with a lot of people; we lovingly call this experience adult summer camp) spending time alone. I've started walking by myself, listening to my favorite podcast (On Being, which you should listen to immediately), waking up early to drink coffee in our staff kitchen, reciting the poetry that reminds me of myself.
I'm writing this on an upswing, because perhaps the most surprising thing I've discovered about myself while traveling is the power of vulnerability. I don't have to choose between joy and sorrow and wonder. I can live at the crossroads, and comfortably. I don't have to present the positive. When people ask how I am, I can answer them, and honestly.
One afternoon, I came into the kitchen to work a dinner shift. Our cook, a not-to-be-crossed yet endlessly endearing Italian woman, greeted me with her standard "ciao" and dramatic sigh about the impossibility of today's dinner prep. As I put on my apron, I told her: I may not be on my best tonight; today had been rough. She nodded, and we worked silently for the next few hours. Known for her biting perfectionism, she caught herself before yelling at my sub-par zucchini-cutting form. And when dinner was over and I came in to tidy up the kitchen, she pushed a plate of extra dessert over. "For you," she said. She thanked me for being honest, and we chatted about her tough days. We agreed dessert solves most things.
In the days after that, I opened up to new friends here and life-long ones at home. I sent emails and made FaceTime calls from the ugly moments, not just the ones when I was filled to the brim with awe, excitement, or wine, and the responses I received were urgent and raw.
Certainly, vulnerability is not a cure-all. My ebbs and flows will continue; all of ours do. But I feel a crack in that perfect orb I maintained for so long. I can see that some of my rituals tethered me to an unbreakable facade, and that other ones will allow me the freedom to grow. I can see, most importantly, that vulnerability is its own kind of honesty, and it begets the same in others. I had always considered myself an open book, but any secrets I had shared were always tied to some well-worn narrative, an oral history I had perfected about myself. For once, I have the sense that the story has barely begun to unfold.
---
Casey Near hails from the Bay Area, California (but is currently address-less). Before living out of a suitcase, she worked in education, calming anxious teens with college counseling and GIFs. A version of this post was first published on her blog.
Illustration by Angelica Alzona