On Wednesday night, London's Borough Market held an Evening of Cheese event, which they described on Twitter as "a fromage-themed extravaganza." It sounds like attendees didn't find the cheese bacchanal they were hoping for and instead had to spread their crackers with DRAMA.
The Daily Mail reports that Facebook and Twitter erupted with complaints when the 20 promised cheesemongers proved inadequate to feed the masses. There were about 18,000 "going" RSVPs on the FB event, which means that even if a fraction showed, it likely numbered in the thousands. The event was reportedly so crowded most attendees never set eye on a single wedge, and, if that weren't devastating enough, amidst all the chaos was a group of vegans protesting the use of dairy products at a cheese party. Cheese night was a disaster.
G/O Media may get a commission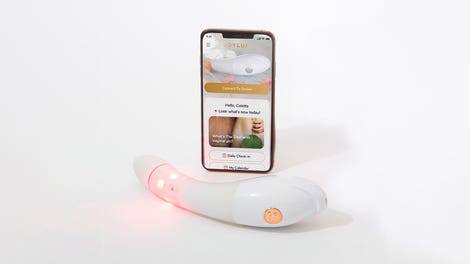 $50 Off
Joylux vFit Gold Device
Borough Market issued an apology of sorts on Facebook that The Daily Mail captured in a screenshot, which reads, "Thank you to everybody who came to last night's event. We're of course saddened to hear that some of you were disappointed. For the last ten years we've opened the Market for this special event and this year saw unprecedented numbers attend, making the Market much busier than usual. Clearly, we've got some lessons to learn due to the evening's popularity and we'll be taking all of your comments into account for next year."
Those comments reportedly included "At one point we were just stuck in the middle of everyone and no one was moving. I got elbowed in the boob and backpacked in the face," and "Absolutely ridiculous night of nothing. You should be ashamed to even promote such a debacle," and "Mega cheesed off about tonight." Not everyone took the hideous crowding as an opportunity to whine or make cheese puns. A commenter named Amalia Di Prosecco (yeah, right) let everyone know what was really grating her:
I'm sorry - we are still talking about a free cheese night and not the war in South Sudan, the famine in Yemen or the well-documented Syrian invasion aren't we? We aren't talking about the poverty in our own backyard, the 5-10,000 rough street sleepers in London tonight I take it. Phew.

Get a grip you pretentious beard sporting, (faux) guardian reading, skinny jean wearing no f***ing sense of what anything is worth unless money is involved, middle class, white, spoilt, lacking in manners, c**kwombles.

And yes, I popped in tonight. And yes there were queues. The queues didn't put me off - it was what was f***ing in them that did.
Ms. Di Prosecco went to an Evening of Cheese hoping to meet like-minded cheese lovers who wouldn't complain about the queue. Unfortunately, it sounds like no one went to Borough Market and fondue what they were looking for.