Taylor Swift's "Wildest Dreams"can't be racist! Sure, it's a highly stylized, white-washed celebration of African colonialism, but—as the video's director so helpfully pointed out—it also had black people working in production! This video's best friends are black!
Immediately following its release at the MTV VMAs, "Wildest Dreams" drew criticism for its romanticized depictions of colonial-era Africa. A highly glamorous Swift—looking like a cross between Elizabeth Taylor and Karen Blixen, Meryl Streep's character in Out of Africa—is romanced by her handsome co-star (Scott Eastwood) on an unnamed African savanna. The continent may include 54 countries and and various climates, but this is the version of Africa that the western world is most comfortable with—a lush and wild playland with, as I put it in my initial write-up, "nary a black person in sight."
Ignoring history and the bizarre white-washing, "Wildest Dreams" is indeed both very romantic and engrossing. The appeal of an adventurous romance in a gorgeous setting with beautiful clothes, animals, and people is hard to deny. Then again, it's also hard to deny the style of plantation-owning Scarlett O'Hara or the Hugo Boss-donning Nazis. The formal era of colonization in Africa (beginning in the 1870s and ending in the 1980s) that Swift's video inadvertently celebrates was indeed a time of great style, freedom, and opportunity—just so long as you happened to be wealthy and of European descent. If you weren't—well, it was quite a different story.
As James Kassaga Arinaitwe, a Global Health Corps fellow and public service worker from Uganda, and Viviane Rutabingwa, the Kenyan and Ugandan Global Health Corps alumni and founder of A Place for Books, write on NPR:
Here are some facts for Swift and her team: Colonialism was neither romantic nor beautiful. It was exploitative and brutal. The legacy of colonialism still lives quite loudly to this day. Scholars have argued that poor economic performance, weak property rights and tribal tensions across the continent can be traced to colonial strategies. So can other woes. In a place full of devastation and lawlessness, diseases spread like wildfire, conflict breaks out and dictators grab power.
As can be expected, "Wildest Dreams" director Joseph Kahn has hit back at accusations of white-washing, generalizing, and racism.
G/O Media may get a commission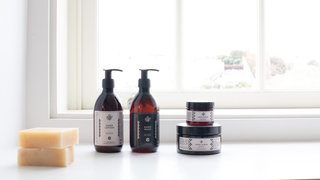 Exfoliate and Hydrate
The Handmade Soap Company
Oh, well, in that case, never mind! If a black woman—and a super hot one, at that—worked on "Wildest Dreams" then there's no way that it can be tone-deaf, even if, as many have already pointed out, it happens to uphold some long-running, highly ignorant, and damaging traditions.
---
Contact the author at madeleine@jezebel.com.
Image via "Wildest Dreams."