We've written a lot over the years about the racial diversity of the American fashion industry — and particularly the diversity of the models cast to walk in New York fashion week — but less about the biggest brands headquartered in fashion's other three global centers: Paris, London, and Milan. With couture week unfolding in Paris right now, and big companies like Dior and Prada arguably starting to favor slightly more diversity in their advertising and runway shows, let's take a closer look at where some of the most influential European fashion brands stand.
Christian Dior
Most recent women's show (couture FW 2013): 50 looks, 34 shown on white models, 16 shown on models of color (Simone Carvalho, Marina Nery, Teresa Lourenço, Yumi Lambert, Chiharu Okunugi, Ji Hye Park, Meng Huang, Ming Xi, Sung Hee, Fei Fei Sun, Alek Wek, Grace Mahary, Joan Smalls, Maria Borges, Kelly Moreira, and Yasmin Warsame)
Christian Dior is that rare luxury company that's backslid from a racially diverse brand image under ex-designer John Galliano to a whitewashed ideal under new creative director Raf Simons. The couture show that just walked this week in Paris marked the first time any black models were cast on Simons' watch. Dior's retreat from multi-ethnic advertising and runway casts under Galliano to the all-white ideal espoused by Simons has been widely criticized, including by the top casting director James Scully, who called Simons' casting racist. Perhaps the multi-cultural theme of Simons' new couture collection is a response to that criticism, or pressure from higher-ups at Dior's parent company, the luxury giant Louis Vuitton Moët Hennessy. But whatever the reason, we hope it's not just a passing phase.
G/O Media may get a commission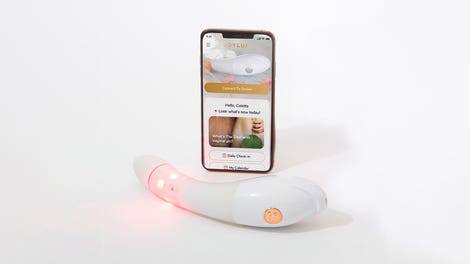 $50 Off
Joylux vFit Gold Device
Prada
Most recent women's show (ready-to-wear FW 2013): 48 looks, 44 shown on white models, 4 shown on models of color (Cora Emmanuel, Chiharu Okunugi, Sun FeiFei, and Sung Hee Kim)
Prada has long been notorious for two things: its widely influential casting (to an even greater extent than most of its high-fashion competitors, Prada often picks relative unknowns for its campaigns and runway shows), and the overwhelming whiteness of its models. For a whopping 27 seasons running, between 1994 and 2008, Prada had no black models in its runway shows. Its track record on hiring non-white models in general is pretty dismal. Prada hired Naomi Campbell for its ads in 1994; 19 years elapsed before it would have another black face of the company. For a long time it seemed like Prada was only interested in launching the careers of young, white models. But in recent years, the brand started using first one Asian model in its shows, then one black model, then, sometimes, more than one. Prada has now not had an all-white runway cast at a women's show since the spring-summer 2010 season. The brand is hardly a paragon of diversity — four models of color in a 44-look show is still below average — but the casting of the young black model Malaika Firth in its fall-winter 2013 ads, and the inclusion of Firth and three other non-white models (out of 12 women models total) in its men's wear show this summer could be a sign that Prada is starting to understand that luxury and beauty isn't a concept exclusive to white people.
Chanel
Most recent women's runway show (couture FW 2013): 67 looks, 57 shown on white models, 10 shown on models of color (Xiao Wen Ju, Joan Smalls, Chiharu Okunugi, Soo Joo Park, Fei Fei Sun, Yumi Lambert, Tian Yi, Sui He, Ming Xi)
If we were doing this analysis by letter grades, Chanel would get a B for diversity. The house's runways and advertising imagery is always overwhelmingly white — white models are still considered the standard in high fashion, and non-white models the "other" — but Chanel consistently assigns a handful of looks to models of color. And Chanel has two Asian models, Soo Joo Park and Chiharu Okunugi, in its current fall-winter 2013 ad campaign, and the black models Cora Emmanuel and Joan Smalls were faces of the brand in fall-winter 2012 and spring-summer 2012, respectively.
YSL
Most recent women's runway show (ready-to-wear FW 2013): 48 looks, 48 shown on white models, 0 shown on models of color
Yves Saint Laurent was famous for being among the first high-fashion designers to work with black models. He said in interviews that he found that black models gave his collections an edge that was "exhilarating" and "modern," and his muses over the years included many women of color (like Iman, Katoucha Niane, and Rebecca Ayoko). Naomi Campbell even credited Saint Laurent with putting black women on the runway, and influencing Vogue Paris to begin giving black models covers. Given this history, it's particularly sad that YSL today has so little apparent use for non-white models. New creative director Hedi Slimane's fall-winter 2013 collection was among the most criticized of the season for its ugly grunge theme — but its all-white cast of models went mostly unmentioned. And it's been years since YSL had a non-white face in one of its seasonal ad campaigns, although Jourdan Dunn has been a face of YSL cosmetics since 2011.
Gucci
Most recent women's runway show (ready-to-wear FW 2013): 50 looks, 46 shown on white models, 4 shown on models of color (Joan Smalls, Liu Wen, Xu Pei Qin)
Gucci has been criticized for its very white show casting — which, like the casting of all of the brands on this list, is highly influential within the industry. Barbara Nicoli, who casts Gucci, said earlier this year, "Gucci never has a huge number of black girls in the show because in the mind of Frida [Giannini, Gucci's creative director], she wants this [specific] type of girl" — and that "type" apparently is most often embodied by white models. Nicoli added, "Caucasians have a specific body type, black girls have a specific body shape, and Asian girls have a specific body shape. So I guess there are some collections where it's more perfect for an Asian body shape because they are more flat and less sexy, in a way." Among Gucci's gestures towards diversity this year was booking Joan Smalls for a lookbook, and making Li Bing Bing the face of the brand (but only for the Asian market).