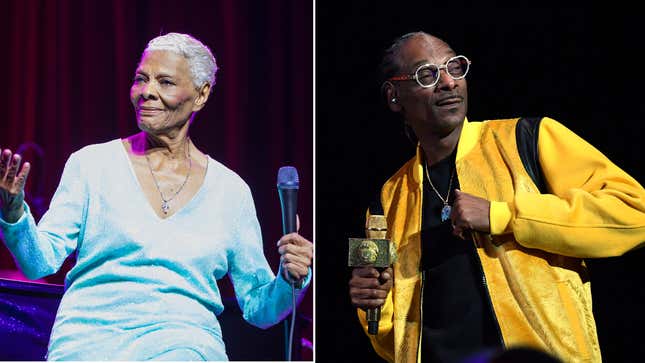 Between expressing openness to dating Pete Davidson and equal openness to fighting Elon Musk, trailblazing 82-year-old singer Dionne Warwick has been running Twitter for a while now. But as many of us know, Twitter isn't real life, and long before the bird app—and the internet!—Warwick has been speaking her mind—particularly to men.

Per new testimonials in CNN's Dionne Warwick: Don't Make Me Over documentary that aired this weekend, the singer apparently staged an intervention at her house around the early 1990s to take top rappers to task over misogyny in their lyrics. "These kids are expressing themselves, which they're entitled to do. However, there's a way to do it," Warwick said.
With that in mind, she invited Snoop Dogg, Tupac, Death Row Records founder Suge Knight, and several other rappers to her home for a 7 a.m. meeting, and according to Snoop Dogg, they were on her driveway by 6:52. "We were kind of like, scared and shook up," Snoop Dogg told CNN of how they felt upon receiving the invite. "We're powerful right now, but she's been powerful forever. Thirty-some years in the game, in the big home with a lot of money and success." To Snoop Dogg's point, Warwick is the first solo Black female artist to win a Grammy in contemporary vocal performance.
After greeting the men, Warwick instructed them to call her a "bitch" to her face, in reference to their lyrics about women. "You guys are all going to grow up. You're going to have families. You're going to have children," Warwick said. "You're going to have little girls and one day that little girl is going to look at you and say, 'Daddy, did you really say that? Is that really you?' What are you going to say?"
The confrontation ultimately prompted Snoop Dogg to change his approach on his forthcoming album at the time and refocus it around "uplifting everybody and nobody dying and everybody living."
"She was checking me at a time when I thought we couldn't be checked," he explained. "We were the most gangsta as you could be, but that day at Dionne Warwick's house, I believe we got out-gangstered that day." As Warwick readily predicted decades ago, Snoop Dogg is now the father of four kids—three boys and one daughter. "Dionne, I hope I became the jewel that you saw when I was the little, dirty rock that was in your house. I hope I'm making you proud," he said.
What I'm taking away from all of this is, frankly, put Warwick in a room with anyone—be that Davidson, Musk, foreign warmongering dictators, anyone, truly—and she could change them. There's also no one I respect more than avid social media users who have just as much fight offline as they do online. Warwick's power, influence, and general coolness clearly reach beyond any one social platform. Here's hoping a similar intervention is staged soon for, say, all the male artists who had less-than-respectful things to say on Megan Thee Stallion getting shot. Drag them, Di!!!