Art historians say a discolored painting previously thought to be the work of "a minor hand" crammed practically into the rafters of a stately home in Scotland might be a Madonna by Raphael. But then who among us hasn't misplaced something valuable in the chaos of our apartments? I've lost so many earrings.
That's according to the Guardian, reporting on the find at Aberdeenshire's Haddo House, which now belongs to The National Trust for Scotland:
The painting, a Madonna composition, had been obscured by discoloured varnish and was attributed to a minor hand. Its potential as a work of one of the giants of art history, as revered as Leonardo da Vinci and Michelangelo, was initially spotted by the historian Bendor Grosvenor.

The picture has been dated to between 1505 and 1510. By 1899 its valuation as a copy was just £20 – equivalent to about £2,000 in present-day prices. As a Raphael, its value on today's market would be around £20m.
Grosvenor was at Haddo House doing some recon for the upcoming BBC series Britain's Lost Masterpieces when he spotted the painting, "tucked away in a corner, high up over a door."
"I thought, crikey, it looks like a Raphael," he told the Guardian. "It was very dirty under old varnish, which goes yellow … Being an anorak, I go round houses like this with binoculars and torches. If I hadn't done that, I'd probably have walked past it."
G/O Media may get a commission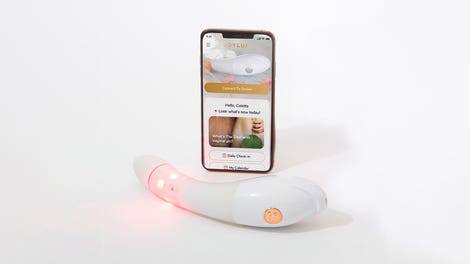 $50 Off
Joylux vFit Gold Device
This is not Grosvenor's first appearance on Pictorial; he also spotted that 17th century portrait by one of Britain's earliest professional female painters that's being added to the Tate. Indeed, roaming the United Kingdom in search of dramatically undervalued, forgotten treasures is what Grosvenor does, appearing on shows like the BBC's Fake or Fortune? Add him to the list of people out there who have snagged what you didn't even know was your dream job.
The painting was purchased in the early 19th century as a Raphael, but later reevaluated as a much less valuable copy by a minor artist. It hasn't been definitively confirmed as the real deal; said Grosvenor: "We had to turn this series round in very quick order. We didn't have time or resources to take it on a European tour of Raphael scholars." But former National Gallery director Sir Nicholas Penny said on a scale of, "perhaps, probably or by," he's "between probably and by. I just want a bit more time and courage."
Grosvenor is more than welcome to come search my home, just in case one of these battered posters from college turns out to be a Michelangelo.