"I just got a call from the offices over at Vogue," Kris Jenner tells her daughters Kendall and Kylie during Sunday night's episode of Keeping Up with the Kardashians. "They're coming to review the Kendall + Kylie collection in new York. This is like, such a big deal."

"Getting a review from Vogue and having it be positive would mean everything to the girls," Kris explains. But Kendall, already a Vogue cover girl, says she finds the prospect of a Vogue review "really terrifying." Kylie, a generally unruffled personality, is seemingly chill about the situation.
"You should be proud of yourselves. The fact that they're giving you this attention in year one, Vogue usually does this after a designer has established themselves, even for years. And Nicole Phelps is actually the one coming to review the line," Kris goes on to explain, more for the benefit of the viewers at home than for her children. "You should be very flattered that they want to see what you're up to."
"Nicole Phelps has reviewed lines like Louis Vuitton, Givenchy, and all the top designers," Kylie says of the Vogue Runway Director, helpfully breaking things down. "I mean if they love it, it'll be amazing, but if they don't, it could potentially make or break us," Kendall adds.
The conversation between the sisters and their mother looks like it was shot the week of September 19, which is odd, given that we then see them present their collection to Phelps during New York Fashion Week, which took place the first week of September. In the scene, we see a man with a microphone that isn't identified, but was Vogue Runway Style Editor Edward Barsamian. The two did a Facebook Live interview with him on September 7. Phelps also posted about shooting that day.

G/O Media may get a commission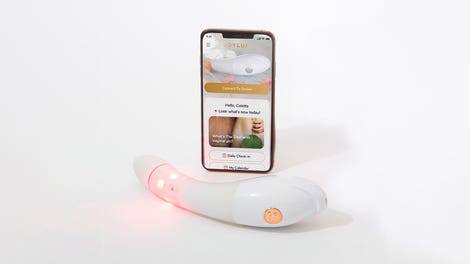 $50 Off
Joylux vFit Gold Device
Strange given that, in a later scene, we see Kris telling Kendall about the review—which was also published September 7—as she shoots a campaign for will.i.am's headphones or something, which appears to have taken place that week as well. "I know how nervous you were about the Vogue review," Kris says to Kendall, before showing it to her and telling her "I heard they don't really give them this early" (whatever that is supposed to signify). Then we hear (though do not see) Kris saying "They love every single piece," with a very large pause between "love" and "every," suggesting that the sentence was spliced together.
"They don't just pass those out on a whim," Kris adds.
The Vogue "review" in question is not much of one. Phelps talks about Kanye West's Yeezy collection, and notes, "Clearly, the Jenner name, like West's, moves product." She quotes the sisters explaining who their clothes are for, but quite honestly, most of it comes off as factual, not as commentary, and could even perhaps be taken as a dig at them if you're reading hard enough.
The Jenners are the "creative forces" behind the brand; they prefer not to have official titles. If their hands aren't getting dirty in the actual crafting of the clothes and accessories, the selling point is that the pieces are made in their image—their everyday style more than their red carpet getups.
"The pieces with the most personality are the result of collaborations with artists," Phelps writes. "A satin souvenir jacket embroidered with a map of California and 'West Side Till I Die' spelled out in gothic font qualifies as the coolest item in the lineup; it could appeal to shoppers for whom the Jenner name has no resonance, if indeed there are any of those left out there."
But to Kendall and her mother, this short piece of writing counts as a rave, and KUWTK features the only two quotes that could be spun as more than neutral.
"I was bracing myself for a bad review, but instead we got a really good one, and it was a nice surprise," Kendall says. Earlier in the episode, she had clarified that it's because of her closeness with Vogue that she was nervous, not in spite of it. "I feel like I obviously work with Vogue a lot, but in a different way, and it's kind of nerve wracking."

Odd, given that she was on the cover of the magazine that month and you'd sort of assume that would slant things at least ever-so-slightly in her favor.