Lupita Nyong'o was just nominated for an Oscar, which means that we'll have over a month more of her flawless red carpet appearances, magazine spreads, and interviews. Apparently, we'll also get some skin lightening fuckery, thanks to Vanity Fair.
The magazine is featuring the actress in its Vanities section, and has posted a preview photo of Nyong'o from the accompanying shoot. Unfortunately, the image shows Nyong'o's skin color as being lighter than it actually is.
See for yourself:
Could this be a trick of light? Previous Vanities shoots feature lighting that washes out their subjects. Photo shoot lighting and red carpet lighting is probably different. Still, at official event photos, Nyong'o's skin looks much darker even though she is also under a lot of bright lights in those situations.
G/O Media may get a commission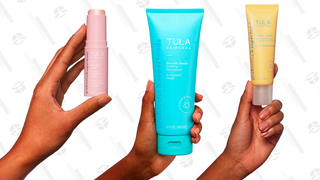 There's also video from this shoot, where Nyong'o's skin does look somewhat washed out in some of the frames, yet not to the extent seen in the final product.
Sigh.
Left lede image via Vanity Fair.