I was promised tears, but the pilot of NBC's much-hyped This Is Us left me dry. "Must-Weep TV," said The Atlantic. "This Is Us will give you something to cry about," said Salon. "Watching This Is Us is like getting beaten up with a pillow soaked in tears," said The New York Times. Bullshit, I say.
Spoilers follow.
I may be less sensitive to narrative conventions like dead babies and adopted people reuniting with their birth parents and overweight people falling off scales than others who write about TV, but it's not like my tear ducts are sealed off. Before flipping over to This Is Us, I teared up multiple times watching A&E's Born This Way last night, in fact! And then I turned to This Is Us, and was greeted by this title card:
Uh... sure? Is that zodiac shade?
The pilot proceeded to follow several characters who were celebrating their 36th birthdays. Jack (Milo Ventimiglia) did this by watching his wife Rebecca (Mandy Moore) have babies. Randall (Sterling K. Brown) did this by confronting his birth father, William (Ron Cephas Jones), who abandoned him as an infant. Kevin (Justin Hartley) did this by having a meltdown on the set of his garbage sitcom The Manny and then meeting up with Kate (Chrissy Metz), the sister with whom he shares a birthday. Kate, meanwhile, spent the day trying not to eat cake and falling in love at an Overeaters Anonymous support group.
G/O Media may get a commission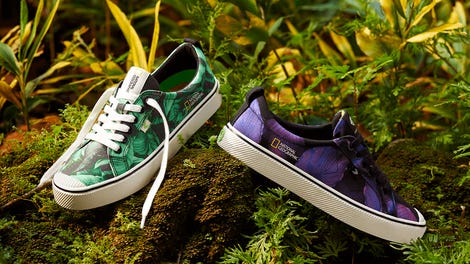 New New New
Cariuma + National Geographic
This Is Us is the kind of show that has its dim, earnest characters saying dim, earnest things like, "How did I get here? How the hell did I get here?" (That line was delivered by Kate from the bathroom floor after falling off the scale, reflecting on her birthday.) The one-hour drama is rigorously inoffensive to the extent that when the episode's major development occurs and Jack and Rebecca lose their baby, it assuages whatever trauma that may provoke by reminding us that Rebecca had two more because she was pregnant with triplets. Two outta three ain't bad! This is low-stakes tragedy, enough to prod but not repel sentimental viewers, and whatever punch it could pack even on those terms was diminished by its blatant foreshadowing. Earlier in the show, Jack dismissed Rebecca's obstetrician for attempting to warn them about potential complications:
"I'm sorry, no. We're not gonna have this conversation. We're not gonna have this conversation, that's not going to happen. We're walking out of this hospital with three healthy babies and one healthy wife. I have three cribs at our new home that we bought specifically for our three children to grow up in. M-m-my mother, my mother's already knitted three onesies, and she's a slow, no-talent knitter. It also happens to be my birthday today, which tends to be a pretty great day in our house, a day that I get pretty lucky. So I'm gonna need everyone in this room to believe me when I say that only good things are gonna happen here today. Actually, I don't just want you to believe it, I want you to know it. Do you know it, baby? Do you know it, doc?"
The episode's much-discussed "twist," besides a cameo from Alan Thicke in which he played himself, occurred when it was revealed at the end of the episode that not everyone was on the same timeline. The babies Rebecca gave birth to were Kevin and Kate. Their third crib was occupied by an infant Randall, who was also dropped off at the hospital that day and promptly adopted by Rebecca and Jack. Of course viewers would assume that everything was occurring simultaneously unless otherwise instructed, and this reveal came complete with signs of the time (people smoking in a hospital, watching a news broadcast about the Iran hostage crisis on a 4:3 tube television) that the show had otherwise withheld. It was not the show's only trick, but it was its cheapest.
This Is Us creator Dan Fogelman prides himself on having delivered an alternative to the "dark and cynical" offerings of contemporary pop culture. This show may be lighter and more optimistic, but it's also anodyne, which puts it entirely in step with much of mainstream culture. To The Hollywood Reporter, Fogelman described future adventures in tearjerking:
When we started shooting our second episode, Milo has this speech that really made me cry behind the monitors. I don't think that's happened to me in a really long time. But it was a good cry; it was beautiful and real. That's the goal at least: the good cry.
This Is Us is being steered by a man who describes his teary response to his own creation as "beautiful and real." Though one hour of this teasing treacle was plenty for me, I won't judge you for sticking with it (the viewer response seems overwhelmingly positive thus far). I just want to make sure you know what you're getting into, and how smarmy its driving force is.