Unabashed in its approach to documenting the sprawling lives of its subjects, The Real Housewives of New York is often credited as the foundational series in Bravo's empire. Its 10 seasons have been endlessly meme-able with a catalog of drama that's often crossed into mainstream news coverage. Enter Season 11. Having premiered last night, it's already an electric start to a new chapter for these delusional Manhattanites. Alliances have shifted, friendships are shattered, Sonja Morgan rented out the townhouse, and Carole Radziwell has officially had her last summer. Nothing is as you remember and this show is all the better for it!
But past the charity galas and Hamptons brunches, I'm consistently struck by the incredible storytelling. No other show in the history of American reality television has captured the interiority of women quite like The Real Housewives of New York. Are they richer than anyone I know? Yes. And do their delusions cripple their ability to function like relatable human beings? Absolutely. Yet somehow, with an ease that feels alarming, its narratives excavate the endless possibilities of our worst experiences: alcoholism, divorce, grief, and death. And without waxing poetic for another few sentences, why don't we dive right in?
Bravo must have heard my pleas to curb the endless time-skip season premieres, because the first scenes hurtle us six months into the past. It's a clever way to ground the entry-storylines: Luann, sued by her children and struggling with newfound success of cabaret-stardom, relapses. Bethenny, grappling with a bitter custody battle, finds hope in her complicated relationship to Dennis Shields. Knowing how both situations end, these opening moments are a sucker punch to the heart. It's a brilliant remix of an overused Housewives trope! A fixture I'll never grow bored of, however, is the "Episode 1 jump-around." Tinsley, wearing a Madewell t-shirt under a champagne colored nightie, stands waiting on a Bentley delivery. Ramona, high above the streets of Manhattan, sexualizes a contract worker. Dorinda meets Caroline Stanbury's makeup artist in the park while Sonja Morgan wanders an empty white apartment. Luann rides a vespa across her Hamptons lawn and worse, Bethenny cries to friends we've never seen before. The grief is especially apparent in the meticulous arrangement of the Skinny Girl salad dressings behind her.
I'd also like to touch down on Sonja Morgan's new apartment. All white, undecorated, and one-tenth the size of her previous manse. And despite my love for this lunatic, this throwaway line speaks volumes on the state of her financials: "We're gonna eBay the couch and go to dinner with the money."
G/O Media may get a commission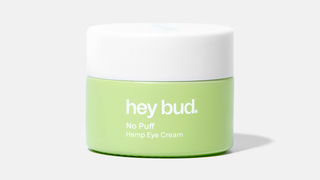 15% off
Hey Bud - No Puff Hemp Eye Cream
There's also a troubling scene involving an unpaid intern duct-taping towels to the wall so businessmen wouldn't stare into her apartment from the restaurant across the street. She even connects it to her love life! "Mr. Netflix and Chill is coming over and I need to have these up." Further, how does this woman continue finding college students to exploit? These girls and gays should want better for themselves! (Imagine answering a Craigslist ad and it's Sonja Morgan at the door, chugging Diet Coke and babbling about a long-dead Kennedy?)
There's also a lot on the subject of grief this episode. Dorinda, clearly mourning the loss of her friendship with Luann, spends much of her screen time deriding the choices of her former best friend. Luann, conversely, is clearly shaken by the lawsuit brought against her by her children and her subsequent relapse. Bethenny's storyline is possibly the darkest. Watching her scroll, cry, and continue scrolling through text messages her daughter sent to a dead man's phone is upsetting in ways I still can't pinpoint. Even Ramona chimes in when she solemnly informs Sonja, "Death is a reflection of our time here. We think we're infallible." I should also note that we're formally introduced to an iconic supporting character: Barbara Kavovit. She's formerly credited as jumpstarting the drama surrounding Tom at the Regency, a legacy in its own right. But I found her presence refreshing, and was obsessed with her anxiety around bringing Bethenny a housewarming present. While she needs to hone her product placement skillset, I was shocked to learn her business involves toolkits marketed towards women? (I screamed when Bethenny reminded her she already had one in pink.)

And while the praise is endless, I do have obvious gripes. Their lives are clearly tumultuous in ways that cripple their health and wellness, but these women consistently center materialism and whiteness over everything. Bethenny, no matter her emotional state, must surround herself with a cornucopia of Skinnygirl merchandise. Barbara's first real scene involves a business she's promoting. Ramona can't stop acquiring luxury real estate (made worse by the glaring class divides in New York real estate.) Sonja, a woman without a job and no genuine contribution to society outside of reality television, consistently fumbles her way into the labs of various aging millionaires. And Tinsley, the product of inherited southern wealth, believes "socialite" is a legitimate career path. Sis, in THIS climate?
Regardless, I enjoyed myself immensely despite their various flaws. The time flew by as quickly and comfortably as Sonja's ride on the Hampton Jitney! As I've said, no other show in the history ofAmerican reality television captures the interiority of women quite like the Real Housewives of New York! Even in the most uptight of settings, this cast can't help but speak their truth. They bounce effortlessly between discussing paint samples and processing the futility of human existence in ways the other franchises can't compete with! Imagine Lisa Vanderpump tackling their dialogue, or Nene Leakes? Not even in my wildest dreams! And while the wealth is as outrageous as the catfights, the women's emotional lives are endlessly riveting. In the words of Ramona Singer describing her questionably hot swim instructor, "It's expensive but excellent."
Selected musings:
Like Luann, I too have come from yoga.
"I'm Moroccan according to my ancestry test. How exotic!" Dorinda Medley, 2019.

Ramona clearly read Rinnavation.

I could watch 10,000 hours of Tinsley Mortimer and Sonja Morgan screaming in luxury vehicles.
I cannot stop thinking about Luann drinking from a #GIRLCODE mug.

If you're the cameraman who spent 15 seconds on Ramona's swim instructor's dick print, please come forward.

Luann arranging an outdoor flower vase while discussing her children suing her.

Capitalism is finding new ways to pay people to hang out with you.

Did anyone catch the quote on Bethenny's kitchen towels: "I never make the same mistake twice. I make it five or six times to be safe."

I'm the shady editor that added "Bethenny's Assistant" under the names of everyone in her kitchen.

They made sure the Skinnygirl wine was in every shot while Bethenny cried.

Luann gave out custom tote bags at her wedding?

"Remember when Harlow had reggae night?"

Luann might be legendary, but her writing staff are not. "Matchmaker, matchmaker: Make me an argument!"

And, lastly: