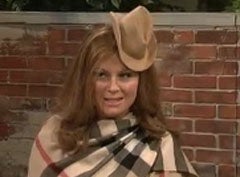 For its season premiere, SNL—with guest host Amy Poehler—parodied the fashion competition amongst ladies who lunch. In this case, the "it" item of the season was a tiny hat. But the "tiny hat" joke has been done before.
Specifically, the "issue" has been previously "explored" by Tim And Eric. The context isn't quite the same, but the hats are indeed tiny.
And here's SNL's take on minuscule headgear:
Are tiny hats a universal joke? Or is the humor so unique that one should be raising questions over the potential influence of Tim And Eric? Obviously, the more tiny hats in the world, the better...
Hatfight: Did SNL Steal A Sketch From Tim And Eric? [Vulture]