Now before we dig into this week's frankly huge investigation, I have a little fun for you guys: this incredible interview with Gwen Stefani's (yes, she of the impeccable platinum locks) colorist. Of course he credits some of her look to the magical power of leave-in conditioner, but listen to these details about how he colors her hair (and how often...):

"We color her hair every Monday, before we film The Voice. Gwen's an Italian girl with wavy brown hair — if you look at the video for Cool, we did her in her natural shade, maybe a little darker — so I developed a high lift formula for her. I learned that I could get to a place of achieving the blond that I want, and the quality of hair that we need and want, by using a new product, as opposed to just bleach. People are like 'that's not natural' and I say, 'Of course it is — it's supernatural'."
Not for the faint of heart, but truly, what a Wonder Woman she is!
Okay, now for the news of the week: Paris Hilton as a brunette.
Now her sister Nicki has often toyed with darker hair, but Paris's thing—as we all know—is blonde blonde blonde. So as soon as I saw this news, I immediately felt suspicious that this was a permanent or semi-permanent switch (not that I would ever suggest Paris was being dishonest! I just thought maybe her having a little fun got out of hand). Apparently, however, it was not hard for the people at People to get deep into it; they took this look totally seriously, claiming that she got rid of her "signature, super long, white blonde hair in favor of a much deeper chocolate color."
G/O Media may get a commission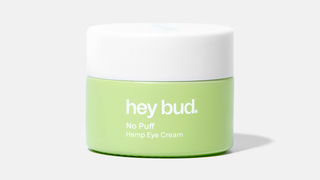 15% off
Hey Bud - No Puff Hemp Eye Cream
But something smelled fishy to me about this, and it wasn't the leftovers of my (delicious—seriously, you have to try it) poke bowl. Instagram is an incredible resource, but sometimes, we need to factcheck our favorite celebs because they will try to pull a fast one in the name of getting their names out there (hey, don't knock the hustle). So I dug around for more candid photos of Paris and found this from Thursday:
Ding ding ding!!!! The conclusion of this investigation was almost as satisfying as when Polly Cooper walked in on Mr. Blossom with his wig collection on Riverdale and he slammed the door in her face (just kidding, nothing could be satisfying as outing that man's horrific toupé). Like Mr. Blossom, we'll chalk this look up officially to a wig! What a minx Paris is, always toying with us. Glad she's having fun though—a girl's gotta!
Okay, now has anyone been reading Kelly Osbourne's riveting new memoir There Is No F*cking Secret: Letters From a Badass Bitch? Rev up your dad's Amazon Prime account stat—hey, just tell him its research for school, you wouldn't really be lying! ;)—and grab it, because the title is not an exaggeration. Kelly pulls no punches!
You can definitely say the same for her latest hair look; The Daily Mail noted that Kelly's "quite a controversial figure when it comes to style" but isn't that what we freakin' love about her?
Here's the look from the front:
But pop over to the Mail, because they've got some pics of the back of her head, which is a braided mohawk with a bit of a tail. Fierce!
Speaking of fierce...that's basically Taraji P. Henson's middle name, as Essence points out in their piece about her fiery new short locks.

There's a lot going on with this outfit—I mean, that bag is so killer!—but somehow, the hair remains the thing you keep going back to. Nothing wrong with that! As I always say, go big or go to some other salon daaaaahling.
Moving on something decidedly more subtle... so much so that I'm not even sure I can tell the difference between her previous look and her new one? Here's the gorgeous Jenna Dewan Tatum a few weeks ago:
And here's her just last week:

Now that's a very subtle shift to ombré—but apparently, it's a purposefully subtle one at that. "Occasionally Jenna wants a natural, sun-kissed pop of color in her dark hair, but we both love her dark hair so much, we never part with it completely," her hairstylist told Glamour, though it does leave me feeling as though their headline for the piece was a bit overstated (still love you girls though!).
Happy for her though—as always, you do you girlfriend!
Lastly, let's look at some recent looks from the Hadid sisters, who never stop slaying. First up, younger sister Bella with some smart bangs. She's really been going for an '80s Working Girl vibe lately, and while it's a little aggressive at times, she works it like the supermodel she is, as noted by Bravotv.com.
Here's the pic:

I'll round things out with Bella's older sister Gigi, who, as this brilliant headline explains, really pushed her look this week. As Refinery 29 notes—and I can't believe it's escaped me—Gigi "has quietly been transitioning to brunette for months."
Hygge hair—I LOVE IT! Give this girl a raise! And give a toast to Gigi, for proving (alongside Paris) that it's not just blondes who have the most fun—brown-haired girls can too!
That's all for this week, but as usual, feel free to add in anyone I missed in the comments because nothing feels better than celebrating the power of women all weekend long (except for maybe a bangin' class at SoulCycle!).