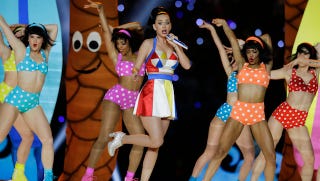 It's long been rumored that Katy Perry was going to devote a portion of her Super Bowl half-time show to throwing down the ultimate mega-dis against Taylor Swift and, boy, did she ever deliver. During last night's sports ball match, Perry came at Swift with an insult so subtle, so well crafted and so imperceptible that you might question its very existence... because it probably doesn't exist.
No, Smiler for Life. I don't think you are reading too much into this, so let's let Hollywood Life read into it further:
Katy seemed to deliberately put the high-waisted polka dot bikinis on backup dancers. Backup dancers were reportedly the cause of Katy and Taylor's feud in the first place. Ouch.

The understated dig is also pretty much a direct reference to Taylor's Cape Cod summer with Conor Kennedy in 2012. The "Blank Space" singer was frequently spotted out with the dashing gentleman and we'd never forget that red, high-waisted polka dot bikini she wore that summer.
Good one?
As if this blood feud wasn't already bad enough, a source tells Hollywood Life that Taylor, when asked what she thought about Perry's half-time show, responded that "that Missy Elliot had a great Super Bowl performance."
Will this violent East Coast/West Coast Top 40 war ever end?
---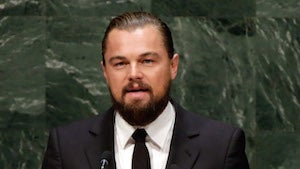 According to OK! Magazine, Rihanna is putting Leonardo DiCaprio on a diet because she's "got extremely high standards when it comes to who she sleeps with and Leo falls out of this category because he's a lot more flabbier than her usual lovers." According to a source (DiCaprio's e-cig), "Leo thinks it's all highly amusing. He's never had a girl tell him what to do, so you can imagine how much he's loving it." [OK!]
---
Scarlett Johansson has a major heart boner for her Avengers co-star Chris Hemsworth. "He's all at once sensitive and ferocious, otherworldly and grounded, is shockingly handsome and is surprisingly approachable" she gushed at the 2015 G'Day USA Gala and Australian Academy of Cinema and Television Arts International Awards. "He is every man and like no man you've met before. He is versatile despite his physicality, which makes him a grade A movie star." [E! Online]
---
Photos via AP.