Buried in the first third of the new House Republican tax bill, the Tax Cuts and Jobs Act, released on Thursday, is a curious amendment to Section 529(e). The new GOP bill allows "unborn children" to be a "treated as designated beneficiary or an individual," for the purposes of a 529, a college savings account that provides a hefty tax break.

Currently, only children with a birthdate and a Social Security number can be named as a beneficiary of a 529 account. The proposed change, as well as the pointed language that conjures up anti-abortion "personhood" legislation, has left many wondering if House Republicans have inserted backdoor language that would provide a foundation for establishing legal personhood for fetuses or if extending the 529 to a "child in utero" was simply a way of giving more tax breaks for those who can afford to invest in the account.
"The overall tax bill is clearly slanted toward the wealthy, so I don't want to discount the possibility that this is another tax break" Amy Matsui, Senior Counsel and Director of Government Relations at the National Women's Law Center, told Jezebel. But, Matsui added, "This provision, in particular, is an effort to weave personhood into the tax code and put these ideological flags where ever they can."

Matsui said that there was a certain irony in the GOP's decision to extend beneficiary rights to what they describe as "unborn children" or "homo sapiens, at any stage of development, who is carried in the womb."
G/O Media may get a commission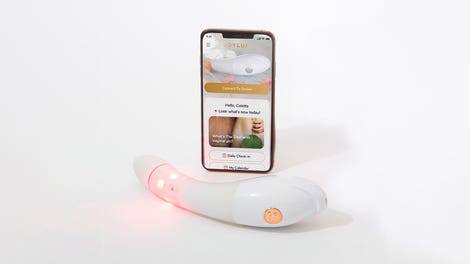 $50 Off
Joylux vFit Gold Device
"This bill cuts provisions for children once they're born," Matsui said. "It eliminates some childcare benefits, it eliminates the adoption credit, it makes cuts in education benefits, and a whole host of other things that families need."
"Down the line, the cost of this tax bill is going to make Republicans cut everything that families use to make ends meet," Matsui added. It's clear, too, that the extension of the 529 to unborn children is "personhood marker" Matsui said. The GOP, added Matsui, has been planting these anti-abortion markers, "wherever they can, and this is just one more place"
The extension of 529s to unborn children is also wildly impractical. Currently, making the child the beneficiary of a 529 requires paperwork that prevents individuals from taking advantage of the tax code (i.e. a child's Social Security number). The revised language in the GOP bill removes already thin guards. Without paperwork would a family have to provide a doctor's letter or a sonogram? None of that is outlined in the tax bill's language. "It's really difficult to imagine how they would implement this," Matsui said.
There a certain disconnect between the larger tax bill and this particular section on 529s. The Tax Cuts and Jobs Act creates more hurdles for families to clear, demanding more and more paperwork whereas the changes to section 529 are the one place where identification requirements are profoundly vague. For example, to claim the child tax credit, the bill requires that parents provide a child's Social Security number as opposed to the current requirement of just a federally-provided tax number. That requirement, Matsui says, would have an overwhelming effect on immigrant families, particularly Latino families. The new 529 provision for "unborn children," which removes any clear identification requirements, reveals an ideological fissure that points directly to an anti-abortion agenda.
"This whole bill is supposed to be about helping families and growing the economy and adding jobs," Matsui said, "so throwing something like this in the bill, upends what [Republicans] claim the bill is about."