In a piece from yesterday's Daily News "experts" argue that although they may want to, Brad and Angelina shouldn't be able to pick and chose when they want to be in the limelight.
But why not? Does the fact that they sell photographs of their children mean that they are somehow implicit in the violation of their privacy? Is it possible for a celebrity to stay in the public eye without being constantly visible? Ian Drew, a senior editor for Us Weekly says no. According to Drew, "everyone is in Hollywood because they chose to be in it. No one is famous there if they don't want it. They ask for it and they're definitely in on the game."
On Sunday, Brad and Angelina "blew past" E! News host Ryan Seacrest on their way into the Golden Globe awards. At a Golden Globes after party, Pitt demanded an umbrella to shield himself from photographers. Frank Navarre, owner of x17, says that this behavior is typical of Brad: "Brad Pitt is somebody who is obsessed with it. He's OK if he's comfortable, on a motorcycle or is well-dressed, but if you get him without him knowing it, he's furious." While many of us can probably understand this desire for privacy, Drew believes that if you want to be a star, you have to relinquish all control over your own image. For Drew, fame is an all-or-nothing deal: "If you really wanted to be left alone and wanted your privacy you'd move to North Dakota, live on a farm and not do this anymore."
However, while Brad and Angelina have moved out of Hollywood, their star power has not diminished one drop. In fact, the entire debate is beginning to seem like a heavily choreographed dance. Both Pitt and Jolie clearly know how to play the press to their advantage- Jolie has even been called "scary smart" with regards to her PR maneuvers. Every time the paparazzi overstep their boundaries, we feel sympathy for the power couple, but we also voraciously consume the results. While there should be some privacy allowed to celebrities, in the "game" of Hollywood, it has become almost impossible to know what is truly unwanted, and what is all for show.
G/O Media may get a commission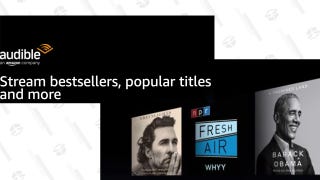 FREE
Audible Premium Plus 3-Month Free Trial
Brad Pitt, Angelina Jolie Snub The Hollywood Game... Kinda [NY Daily News]