As we gird our collective loins for the television event of the century—the premiere of Girl Meets World, OBVIOUSLEH—it's important to tackle the tough questions. Questions like, "Will there be Shawn?" and "Will there be Eric?" and "Will there be Feeny?" and "Wait, DID BEN SAVAGE GET A MOTHERFUCKING NOSE JOB!?!?!" The last Q comes to us courtesy of some eagle-eyes at the Observer, who checked out some PR stills of the new show and got a decidedly Steve-Martin-in-Roxanne-y vibe from Cory's modern schnoz.
We were super excited when we heard that our childhood friends from Boy Meets World were coming back to television – but we were shocked when the Cory Matthews we knew and loved was replaced by a pointy-nosed impostor.
Click through for some more comparison photos. Honestly, it could just be the angle/the lighting/the fact that all of us are old now and our faces grew and stretched, but it is interesting to note that every other part of Ben Savage's face remains eerily unchanged. So BARE MINIMUM we have warlockery going on here, if not plastic surge. [NYO]
---
Kim Kardashian wants to be Victoria Beckham's intern.
The reality TV star — who's engaged to rapper Kanye West — is determined to repair her image and reinvent herself, and thinks working for the singer-turned-fashionista is the perfect plan.

"Kim says she's going to ditch reality TV and reinvent herself," a source said.

"She hopes to launch her own high-end clothing range and sees Victoria as the perfect person to emulate. She's offered to work in as position as an apprentice under Victoria."

Sources say Kim is using her sister, model Kendall Jenner, as leverage with Victoria.

"Kim knows it would be a coup for Victoira to land Kendall for one of her shows."
G/O Media may get a commission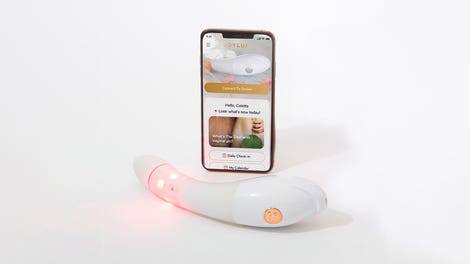 $50 Off
Joylux vFit Gold Device
That seems...not at all true. But sure. [ShowbizSpy]
---
Cockroach from the Cosby Show is getting a divorce. [TMZ]
Elle Macpherson's favorite red carpet moment is the time she wore flops. [People]
Here are Dwayne "The Rock" Johnson's muscles in the role of Hercules's muscles. [E!]
Quentin Tarantino is hosting a 4-film Jerry Lewis tribute. Ew, why. [Deadline]
Pierce Brosnan wants to sing and YOU WON'T STOP HIM. [ShowbizSpy]
Olivia Wilde can't believe she's not shooting out babies right and left. [JustJared]
Someone threw their shoe at Hillary Clinton!!!!!!!!!!! [TMZ]
Channing Tatum gay-wrestled a male model on the gay cover of gay magazine Out in 2002, gayly. [E!]
Khloe is dodging Lamar's phone calls. [Radar]
Jeremy Renner "has bulging biceps." [JustJared]
Christopher Meloni is braggin'.