A Portland, Maine food writer, whose job it is to eat and write about food, is now banned from three restaurants after being warned that he wasn't to write reviews of those venues after visiting on assignment.
Reports the Portland Press Herald:
John Golden, who writes the blog The Golden Dish, on MaineToday.com, received an email last week from Arlin Smith, Andrew Taylor and Mike Wiley – who collectively own Hugo's, Eventide and The Honey Paw – telling him that he is no longer welcome in any of their establishments.

The email, sent Thursday, references a conversation Golden had with Smith during a visit to The Honey Paw on April 15 – the day it opened – in which Smith warned Golden not to write about his visit. The email also mentions Golden's May 1 review of the restaurant – a review that the restaurant owners admitted was overwhelmingly positive.
Hmm—okay. So, even though the writer was presumably invited by the owner or a publicist (or made his presence known to the owner before or on the day of), the owner still instructed him not to write a review. Either eat about it or write about it, he says.
"We wanted to take this opportunity to assure you that we were quite serious when we offered you the choice between dining at our restaurants and writing about them," it read. "As pleased as we all were that you enjoyed a 'ten-star' meal at The Honey Paw, we must remind you that it was your last. Please understand that we are well within our rights to refuse you service, and that the choice to dine or to write was your own."

Taylor and Wiley said Monday that they are banning Golden from their restaurants because they find him and his writing unprofessional. They said Smith was not available for comment.
G/O Media may get a commission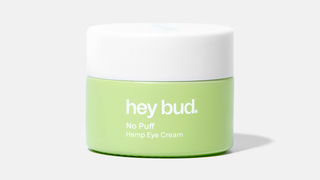 15% off
Hey Bud - No Puff Hemp Eye Cream
Interesting. So they knowingly hosted a food writer—one who's published his work in places like Gourmet, the New York Times and the Boston Globe in addition to his post at Maine Today—and because they have their aprons in a knot about his style of writing (more on that below), he can't go back? That seems shitty. Or more like a pissing contest, really:
Wiley especially disliked something Golden wrote recently about several local restaurants. The piece, posted to The Golden Dish in February, mentioned Hugo's and Eventide, but what annoyed Wiley most was Golden's comparison of another restaurant – Ribollita – to a "goiter."

"Was that necessary?" Wiley asked. "And because he wrote about us, it almost feels like we're ratifying that statement."

In that same post, Golden included a photo of Taylor wearing a bright orange knit cap. Golden referred to Taylor as "hat model and chef/co-owner." Taylor said he found the comment petty and personal.

"Some of what he might regard as folksiness doesn't come off as, 'I'm here to review the food,' " Wiley said. "There is just more personality injected into his pieces than we think is appropriate."

Golden said the hat comment was a joke.
You're probably thinking that these restaurant owners are a bunch of dicks, and I'd say that you might be on to something. But please—don't let me put words in your mouth when really, their bios speak for themselves.
Quick, let me poke my eye out with a lobster fork. Golden seems like a people-pleasing, genial guy (who hasn't yet mastered the art of Twitter)—and I can appreciate that he hasn't pulled his review (which is interlaced with phrases like "fantabulous" and "Harrumph!," and definitely exposes the restaurant's sore spots, like creamed tuna that tastes like potato salad and dull-ass cookies that you'd probably be disappointed in after blowing cash on too-small small plates, too). The fact that word travels fast is probably what these sensitive restauranteurs were fearing; now they'll likely find out it travels even faster than they thought.
Image courtesy MaineToday.com/John Golden