Dr. Sonette Ehlers, inventor of the Rape-aXe condom (formally known as Rape-X), wants to distribute 30,000 of the barbed devices to women in South Africa in advance of the World Cup. Not everyone is in support.
When the Rape-aXe condom first appeared in 2007, it was met with both excitement and anger. The dangerous-sounding invention is a direct response to a very real problem in South Africa; in a country where a woman is raped every 26 seconds, and gang rape is often considered a "legitimate" form of male bonding, something like the Rape-aXe has the potential to save more than a few women from vicious attacks. However, it also runs the risk of infuriating the rapist, and bringing more violence upon the victim (especially if there are multiple attackers). Furthermore, the condom only serves to remind women that they're in danger of being raped every minute of every day. And, as Lisa Vetten of the Centre of Violence and Reconciliation said in 2007, "This is like going back to the days where women were forced to wear chastity belts. It is a terrifying thought that women are being made to adapt to rape."
Back when the product was first announced, we had some issues with its practicality. Although it has yet to be tested on the dick of an actual rapist, Ehlers says she has smoothed out some of the kinks in the design. The real-life version of the vagina dentata (Ehlers actually says her inspiration came from a victim who said, "If only I had teeth down there!") looks like a tampon and comes complete with an applicator. She says it is "very comfortable, very soft - she won't feel it." The plastic sheath is decorated with hooks, which are hard enough to latch on to the skin but not large enough to draw blood, an important consideration in a country with an HIV infection rate of almost 18%. Ehlers described the aftermath of a Rape-aXe:
[The rapist] cannot run after you... [the Rape-aXe] attached to the penis during erection, and the penis wants to go back to normal and it can't... And he can't even get his manhood back into his trousers. He can't urinate because if he pulls the tip to cut it off... he pulls the hooks deeper into his body.
G/O Media may get a commission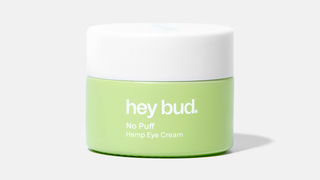 15% off
Hey Bud - No Puff Hemp Eye Cream
If you can't quite imagine it, Ehlers offers an animated video of the Rape-aXe in action on her website, along with multiple images of the product. Ehlers has appealed for donations to produce and distribute her product — she hopes to get enough support to distribute the first 30,000 condoms free of charge.

'Rape-aXe': World Cup Fans Get Barbed Condoms [The First Post]
Rape-aXe [Official Site]
Related: Warning! Severe Dick Damage!, Anti-Rape Products Seek To Open Dialogue, Protect Against Rape