Two weeks ago, Donald Trump held a press conference intended to explain how he plans to divest himself from his companies to ensure he won't encounter any conflicts of interest as president. Never mind that his plan itself—to turn over control to his sons, Donald Jr. and the other one—is highly suspect and in no way assures he won't self-deal in the Oval Office. But according to ProPublica, he hasn't even adhered to his own plan.
During the press conference, Trump repeatedly referenced a pile of papers that may or may not have been blank—staffers wouldn't allow reporters to examine them. Contained within the folders, he claimed, were signed documents that proved he had relinquished control of the Trump Organization to a family trust.
"What I'm going to be doing is my two sons, who are right here, Don and Eric, are going to be running the company. They are going to be running it in a very professional manner. They're not going to discuss it with me. Again, I don't have to do this," Trump said at the time. "They're not going to discuss it with me. And with that, I'm going to bring up Sheri Dillon, and she's going to go — these papers are just some of the many documents that I've signed turning over complete and total control to my sons."
Except now he's president, and those documents haven't surfaced.
According to ProPublica, Trump would have to file "a long list of documents in Florida, Delaware and New York" to change ownership of his company. Officials in all three states tell the organization those documents had not been filed by 3:15 p.m. today.
ProPublica looked at more than a dozen of Trump's largest companies, which are registered or incorporated in three states. Officials in New York and Delaware said documents are logged as soon as they are received. In Florida, officials told us there is typically a day or two before documents are logged into the system.
G/O Media may get a commission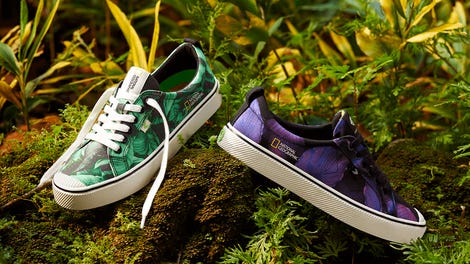 New New New
Cariuma + National Geographic
The properties still under President Trump's direct control include Wollman Rink, the new hotel at the Old Post Office site, the Donald J. Trump Foundation, the Trump National Golf Club, the Trump International Golf Club, Mar-a-Lago, and DJT Holdings.
It's fine, though—Trump promised at that same press conference that there he won't have any conflicts of interest, despite there being no official rule barring conflicts of interest.
"I don't like the way that looks, but I would be able to do that if I wanted to. I would be the only one to be able to do that. You can't do that in any other capacity," he said. "But as president, I could run the Trump organization, great, great company, and I could run the company—the country. I'd do a very good job, but I don't want to do that."
Just going to have to take his word for it!