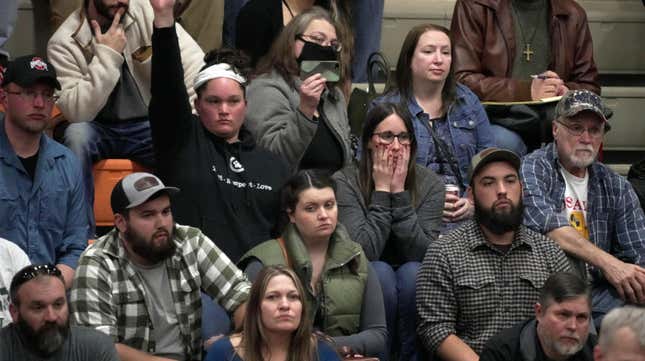 Danielle Deal's daughter has a cough. It's not unusual for the 14-year-old, who's plagued by seasonal allergies, to be sick this time of year. And yet, Deal is starting to worry. The single mother, a restaurant server, and her two daughters live just three miles north of where a Norfolk Southern freight train carrying hazardous materials—vinyl chloride, being one—derailed on February 3 in East Palestine, Ohio. Their home didn't fall within the evacuation zone, nor could they afford to leave even if they wanted to. And every night since that plume of thick black smoke permeated the air, her daughter's cough has felt a little more troubling than in years past.
"I didn't want to be the person that runs to the doctor right away. I'm like, 'This is just par for the course for her...she's going to be fine...we're going to get her some allergy medicine.' But every day, it gets worse," Deal told Jezebel over the phone. "Last night, she was up all night long coughing, so tonight, we're going to urgent care after I get off work, and we're going to see if it's just her seasonal allergies. But we need to get that documented, because that's what everybody's saying needs to be done."
Anecdotes like this underscore the uncertainty clotting in every corner of East Palestine and its neighboring towns. Whether local air and water is safe is just one item on a lengthy list of concerns. Amidst an influx of information—and misinformation—they say a lack of transparency by federal officials, Norfolk Southern, and the Ohio EPA is at the top of the list, too.

As residents like Deal continue to note headaches, persistent coughing, rashes, and irritated eyes—not to mention the sick animals—Ohio Gov. Mike DeWine (R) has repeatedly insisted that the chemicals that spilled into the Ohio River are no longer an issue. The soil is another story. Even still, those who can afford it are reportedly pursuing their own water screenings. Bull Creek, one of the waterways where thousands of fish were found dead in the immediate aftermath of the catastrophe, runs straight through Deal's backyard. Her younger daughter loved to collect rocks, mushrooms, and wayward plants along its perimeter—but not anymore. Deal told me she hasn't felt comfortable letting her dog outside, that she and her family have "rationed" shower use, and they continue to drink strictly bottled water, even using it for household chores.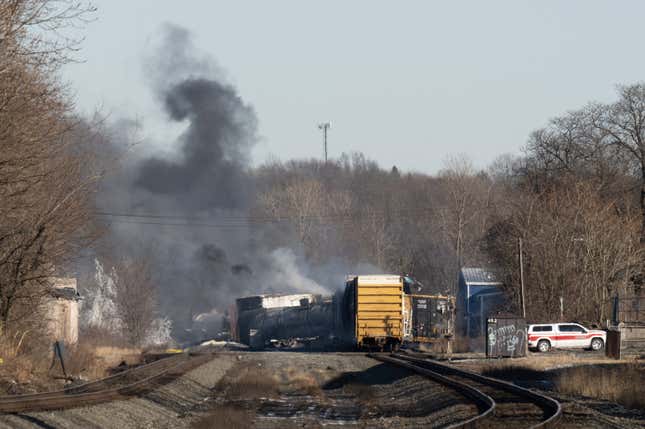 "In East Waterford, we have one store, and it's Dollar General," Deal said. "It's completely wiped out of supplies because the other local convenience stores in East Palestine and the other neighboring towns are shut down, or nobody wants to go there because it's not safe. I talked to the cashier gentleman and he said they sold 140 cases of water in just a few days."

On Tuesday, as if in response to residents' speculation, DeWine and an EPA administrator drank the water out of a household tap in East Palestine. DeWine and the EPA also announced a plan of support, including opening a medical clinic for assessments, despite having issued dozens of statements insisting that air and water testing hasn't shown results of contamination. The clinic will not conduct blood or urine tests, nor prescribe medications. Toxicologists, nurses, and mental health professionals on staff will be present simply to discuss symptoms and make referrals.
Other federal officials haven't exactly provided much comfort either. Secretary of Transportation Pete Buttigieg has been the subject bipartisan bashing for his own lack of action. FEMA, too, took two weeks to announce assistance. Even former president Donald Trump has waded into the murky waters. On Wednesday, he visited East Palestine and promised support for the local residents, as if he doesn't already have a transportation safety record that discourages trust.
So of course, many citizens remain suspended in doubt and racked with anxiety. Deal and others cited how a recent town hall—wherein Norfolk Southern representatives were not in attendance and drinking fountains were notably locked—devolved into frenzy of questions that ranged from financial assistance (Norfolk Southern has claimed to have committed more than $5.6 million to the community) to how to feel safe in one's home if one can't afford to evacuate.
"I hate to say it, but East Palestine is…it's a working class town. We're working class people," said Deal. "We're not over here with Ritz Carlton credit cards. I'm a single mother of these two girls, and I'm a server. I've served at restaurants my entire life. My income is day-to-day. It's not even paycheck-to-paycheck. I live off of my tip money."
Meanwhile, Amanda Kiger, the co-director of River Valley Organizing, a grassroots coalition out of nearby East Liverpool, has been working to coordinate aid and disseminate information to those who don't know where to turn. "We get dozens and dozens of emails and Facebook messages," Kiger told Jezebel in a phone interview, noting that citizens even got ahold of her personal number. "I have gotten voicemail after voicemail asking me for water, and independent water and soil testing. It's been hard to listen to them because folks are so desperate."
Kiger also cited that many residents are confused as to how much money they're entitled to from Norfolk Southern and, should they choose to take it, whether they'll be able to join the number of class action lawsuits already taking shape. As of February 10, $1,000 inconvenience checks were being issued only to residents within a one-mile evacuation zone at a Family Assistance Center inside of a church in New Waterford. Two days later, Norfolk Southern clarified that any citizen forced to evacuate could claim the money.
Zsusza Gyenes, a mother of a 9-year-old boy, has already visited such a facility. Hours after the derailment, she and her son became immediately ill—with vomiting, disorientation, and rashes among their symptoms. They've been living in a hotel in Pennsylvania ever since. Initially, Gyenes declined the $1,000 check, but when she changed her mind and returned days later to claim it, she was abruptly informed she was ineligible.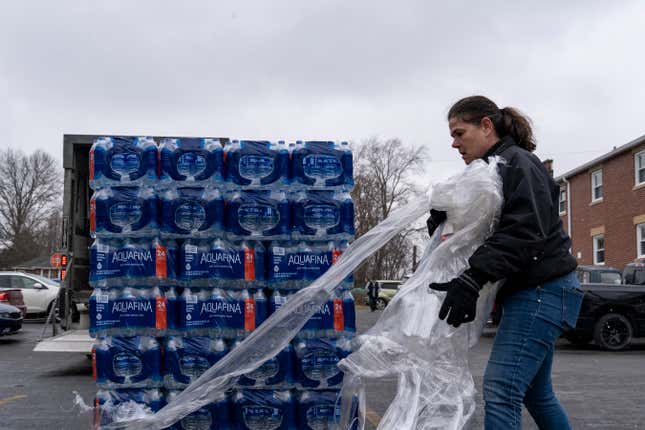 "At the beginning, a couple of days after they opened the assistance center, I was told that I was offered the $1,000 check," Gyenes told me. "I turned it down because I said I don't know how long this is going to last and we were still in a hotel. A couple days later, we had gone back and they told me I was no longer in their radius and I wasn't eligible for this check anymore."

One week later, she was told she was suddenly eligible again—as were all the residents within the East Palestine zip code. Gyenes is still worried, though, about the physical and mental ramifications for her son.
"He just doesn't know what to think," she said. "I know he's scared and he's been really clingy... I'm his safe spot right now, so it's just a lot of stress in every direction. I'm trying to make things so normal for him and not traumatize him any more than we already have."
The train derailment isn't even the first experience East Palestine residents have had with potential toxic poisoning.
"When we look at this community as a whole, there's layers upon layers of degradation," Kiger said. "We have the steel mills, the coal mines, the potteries…so there's so much legacy pollution here. Then, we also house the country's largest commercial hazardous waste incinerator. So this legacy, the compounding and layers and layers of pollution on a community…they're basically telling us they don't give a shit about us. It's like, 'Okay, they're polluted, we can keep throwing it on them. They're dumb Appalachians, we can twist them up with messaging so they don't know which way to turn.'"

"I don't want to paint the picture that we're poor and toothless Appalachians," she continued. "But we are a lower economic population where folks don't have the money to hold out."
Since our first conversation, Deal's daughter's cough has subsided. She still plans to keep a close watch on it while trying not to "freak out," but the situation has clearly taken a harsh mental toll.
"We're all just in our own heads at this point," Deal said. "I was joking the other day, and I said to my friend, 'Let's play a game: It's February in Ohio...do we have a sinus infection? Do we have the flu? Do we have covid? Or are we dying from chemical poisoning?'"