Calling Donald Trump's education secretary pick Betsy DeVos an "ideologue" who "knows next to nothing about education policy," Sen. Al Franken (D-MN) has pledged that "there's not going to be one Democratic vote for her." Franken added that Democrats are also "trying to find Republicans who will vote against her."
Franken spoke on behalf of Senate Democrats in an interview with MSNBC's Rachel Maddow on Thursday night, explaining that Dems have a strategy in place to deal with the gang of cartoon villains Trump wants to appoint to his cabinet.
"There's going to be a lot of these nominees who we're going to do everything we can to defeat. As you know, these nominees need 51 votes and we have 48, so we need some Republicans," he said. "You will see a number of these nominees who virtually all of us [Democrats] will oppose."
In her trainwreck confirmation hearing last week, DeVos, a billionaire Republican donor with no experience in education policy, suggested that guns may belong in schools "to protect from potential grizzlies," fumbled over basic questions about the education system, and would not commit to protecting the rights of vulnerable students.
In a statement announcing his decision to vote against Devos, on Thursday Senate minority Chuck Schumer (D-NY) called the nominee "just another member of the swamp cabinet that is full of billionaires and bankers."
G/O Media may get a commission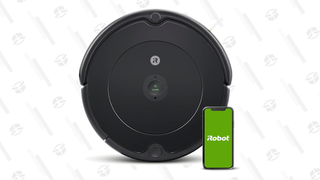 35% Off Black Friday Deal
iRobot Roomba 694 Robot Vacuum
"Betsy DeVos would single-handedly decimate our public education system if she were confirmed," he said. "Her plan to privatize education would deprive students from a good public education, while helping students from wealthy families get another leg up. It would deprive teachers of a decent salary, and it would make it harder for parents to get a good education for their kids."
Bernie Sanders has also publicly pledged to vote against DeVos:
More than 300,000 have signed a Change.org petition against DeVos and senate offices around the country are flooded with calls, emails, and letters begging lawmakers to keep DeVos away from America's public schools.

Democrats will need three Republican senators to vote against DeVos in order to successfully block her confirmation, however. The vote takes place on January 31.