A woman has come forward with allegations that her ex-wife, a New York State Senate candidate, verbally and physically abused her. The allegations were first reported by the Ithaca Times.

Ana Gasteyer Satirizes the Girl Boss in 'American Auto'
Brandi Morgan, 36, alleges that Amanda Kirchgessner, 34, the Democratic candidate for New York's 58th Senate district, repeatedly threw objects at her; threatened to strangle her; pushed and grabbed her, and threatened to kill her animals if she left their marriage.
Kirchgessner, a waitress and self-described activist, won the primary on a platform that supports a state jobs guarantee, seeks to pass the New York Health Act, and aims to eliminate cash bail, according to her campaign website. In the primary, she earned endorsements from several local officials. She will face off incumbent Tom O'Mara, a Republican seeking his fifth State Senate term in the Ithaca region.
"I just don't think she's fit for office. I have nothing to gain by coming out," Morgan, a former contributor to Jezebel's now-defunct beauty site Millihelen, told Jezebel about her decision to come forward with the allegations. "This complicates my life and adds a lot of stress to it. So I'm not doing this for fun. I'm doing this because I think it's the right thing to do. Because people need to know who and what she is as a person."
G/O Media may get a commission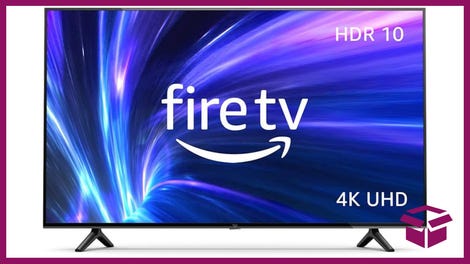 42% Off
Amazon Fire TV 50" 4K Smart TV
"I don't, in any way, endorse him," she said of O'Mara. "But Amanda is also not fit for office. She has shown herself to be violent and cruel and abusive towards the woman who was her wife at the time, me. I just cannot endorse her."
In a press release emailed to Jezebel, Kirchgessner called the allegations of physical abuse "false" and said she was a victim of "emotional abuse."
Morgan and Kirchgessner were married from 2008 until 2016. She had taken Kirchgessner's name, but changed it back after the divorce was finalized. She says that their relationship changed in 2011, after Kirchgessner was charged with driving while intoxicated. "She kept drinking and driving, and I felt like I was her mom," Morgan said. "We just became very resentful of each other after that." Morgan says that the relationship became physically abusive in 2014.
In the press release, Kirchgessner admitted to the charge but did not address the allegations of continuing to drink and drive. "I received counseling about my drinking habits which I took to heart and which changed my life," she wrote.
In the fall of 2014, Morgan says, Kirchgessner approached her with a desire to have an open marriage; Morgan declined, and Kirchgessner became angry. In November 2014, the anger escalated to violence, she says. "She, for the first time, got physical with me," Morgan said. "She threw me down on the floor in our bedroom one night. I don't even know what she was mad about—she was always mad about something at that time. I never knew what was going to set her off."
"She threw me on the floor and started pulling off my pants," she recalled. "I was terrified. She told me she wanted to choke me to death that night."

Morgan says the physical abuse "continued from there. One time I was on the stairs and she got mad at me. We had this dog gate that was bolted to the stairs," she said, "She tore the gate off the stairs and threw it at me."
The worst incident, Morgan says, came in December 2014. Morgan suffers from a chronic nerve condition known as complex regional pain syndrome and has neurostimulator—a surgical implant that sends electrical pulses to her spine, blocking pain signals from reaching her brain. "She grabbed me by the back of my neck and pulled me down to the ground," Morgan says. "And then when I tried to turn my neurostimulator on after that, it didn't work." Morgan needed two surgeries to restore the implant, which was permanently replaced in September 2018.
Morgan says she then confronted Kirchgessner about the alleged abuse and recorded the conversation, which she shared with Jezebel. Jezebel confirmed the recording is from 2014. In the recording, Morgan says, "My head still hurts from where you got the back of it. That's fucked up. How do you think physical violence is okay?"
A female voice responds: "How do you think emotional and mental torture is okay?"
"I can change my behavior, but I can't change yours," the voice says.
"Well, then why aren't you changing it?" Morgan asks.

"I'm working on it. But your behavior hasn't exactly changed," the woman says.

Morgan recounts the alleged abuse, saying, "You should never, ever react to someone physically. You threw me to the ground. You pulled my pants off. You told me you wanted to choke me to death. You took my phone away. And now you grabbed the back of my head and pulled my hair out to get your phone.

"You still wanted to be with me," the woman says.

"I don't want to be with you," Morgan replies.

"You did at that point," the woman responds.

Kirchgessner did not comment on the recording to Jezebel. "I know that you have a professional relationship with my ex-wife," she told Jezebel in a phone call on Wednesday morning. "It's pretty clear to me that in the gray area that is the #MeToo movement, at this moment, I think I deserve a fair shake. I would invite you to come up here and meet some folks."
In the press release emailed to Jezebel, Kirchgessner wrote: "While I was in an abusive marriage, I was not an abuser. I do not understand what compelled my former spouse to contact a reporter with such vicious and false charges. Our breakup was difficult and hurtful. I called 911 multiple times, and we both called 911 at the same time on one occasion. Police did visit our home. As the [Ithaca Times] story indicates, no charges were ever made. I bear no ill will to Brandi Morgan, my former wife. I hope that she eventually finds some peace and moves on from a failed relationship that appears to still consume her."

"Past mistakes and events do not define me," she wrote. "I was able to move on from my DWI conviction and a failed abusive relationship. In the years since my conviction and the end of my marriage, I have channeled my passions into political activism and a demand for social change. Too many people in our society remained trapped in alcohol or drug abuse and remain in abusive relationships. My experiences, while personally painful, have made me who I am – someone who will speak for those who cannot.
Kirchgessner offered a lengthier response on her Facebook page on Tuesday, ahead of the articles in Jezebel and the Ithaca Times, in which she alleged being the victim of domestic abuse. "I endured years of psychological torment," she said. "I never wanted to make my campaign about this, but I realize, right now, in particular, like this is exactly what my campaign needs to be about because I'm not unique. So many people deal with domestic violence in their homes." The video did not address the specific allegations made by Morgan.

Morgan says that Kirchgessner threatened to divorce her several times on account of refusing to participate in an open marriage, and initiated divorce proceedings in the spring of 2015. Once Kirchgessner filed for divorce, Morgan began dating other people. "As far as I'm concerned it was [over], but she was still arguing for the open marriage."
By June 2015, Morgan was spending several nights a week with her current girlfriend, though she still lived with Kirchgessner in their Ulysses home. On June 27, she says the two got into an altercation. "She wanted help putting some curtains in the house," Morgan recalls. Kirchgessner "was convinced I was recording her," and threw the curtain rod at the china cabinet. Morgan rushed to the window, screaming for help. "She grabbed me hard, left a big bruise on my arm," she said. "And then I called 911, and she called 911."
A domestic incident report filed with the New York State Police indicates that Morgan "stated screaming for help out the window, when [Kirchgessner] grabbed her and pushed her away from the window. [Morgan] and [Kirchgessner] both called 911." The report indicated that neither had injuries, and Morgan declined to press charges or make a statement.

Morgan recalls a different version of events. "I wanted her arrested. I showed them the bruise that she left on my arm," she said. The police urged her not to pursue charges, though, she says, because Kirchgessner would be released within hours.

Public Information Officer Aga Dembinska of the New York State Police confirmed the incident report.
"After the last incident with the police," Morgan said, "I tried to avoid being there as much as possible, and moved in with my new girlfriend."
Morgan alluded to her then-wife's abusive behavior in a series of Kinja posts that she wrote under an anonymous username. Jezebel has not linked to them to protect the anonymity of her account. In a Kinja post from November 2015, a few months after Kirchgessner served Morgan with divorce paperwork, Morgan described the marriage as "very scary and even more violent toward the end." In January 2016, Morgan described her ex-wife as "violent" and "abusive and controlling." In February 2016, when the divorce was finalized, Morgan wrote about needing surgery to fix her neurostimulator leads, the thin wires in her spinal implant that send electrical impulses to her spine because her "abusive ex-wife" grabbed her by the back of her neck and pulled her. "I shouldn't even need this surgery," she wrote, referring to the 2014 incident.

"Any time I would try to leave, she'd be afraid that I'd go to the police or go to a friend, so she'd threaten to kill my animals and set fire to the house and kill them all, to release them to the streets, to hurt them," Morgan says. "Sometimes she kicked my little orange cat and threw it against the wall and hit it. She'd kicked the animals so she was controlling me through my pets because I had five cats and three dogs, so I couldn't just throw them in the car and leave."
Jezebel spoke to two women—Morgan's best friend Emma Oster and another who did not wish to be identified—who confirmed that Morgan had told them about instances of abuse at the time, including allegations of animal abuse. Oster, who lives in Colorado, told Jezebel that Morgan asked her to check in every morning and night to make sure that she was alive. If she didn't respond within hours, Oster said, she was to call the police. "We live in different time zones," Oster said, "On evenings that I didn't hear from her within an hour or so, I would get really scared, and I would start contacting her repeatedly."
The other friend encouraged Morgan to come forward to the press. "Although I'm a registered Democrat, I really believe in ethics," she said. "What we see with Donald Trump, and these senators, and even with Kavanaugh, are just these politicians who are unethical people, overall."
"We need to vet people running for office more than we do. And I think the voters need to know who they are voting for," the friend told Jezebel. "I personally just really believed that our public servants need to be held to a higher standard."
"She's running as a Democrat in the Ithaca area for state Senate against Tom O'Mara, a Republican, and I don't particularly like him or want him to win, but," Morgan said, "Amanda should not be in office, either. She's morally corrupt."