Democratic leadership said in an interview on Monday that the party will fund anti-abortion Congressional candidates. "There is not a litmus test for Democratic candidates," Representative and chairman of the Democratic Congressional Campaign Committee Ben Ray Luján told The Hill. "As we look at candidates across the country, you need to make sure you have candidates that fit the district, that can win in these districts across America," Luján added.

The decision to potentially fund Democratic candidates that could be anti-abortion is part of Luján and the Democratic leadership's plan to retake the House in 2018. Democrats need to win 24 seats in order to do that and, according to Luján, "We need a broad coalition to get that done." "We are going to need all of that, we have to be a big family in order to win the House back," Luján told The Hill. The DCCC's decision reflects Democratic leadership's increasing ambivalence on supporting candidates who are firmly pro-choice.
In March, Minority Leader Nancy Pelosi told the Washington Post that Democrats should be more flexible on the issue of abortion. "This is the Democratic Party. This is not a rubber-stamp party," Pelosi said, adding that many of her family members are "not pro-choice." "You think I'm kicking them out of the Democratic Party?" Pelosi rhetorically asked. Pelosi's position has been reiterated by Bernie Sanders and Chuck Schumer.
The DCCC's position on funding anti-choice candidates seems to be long in the making. That position came to a bit of a messy pinnacle in April when Democratic National Committee chairman Tom Perez campaigned with Omaha mayoral candidate Heath Mello. Mello, a self-described progressive, co-sponsored and supported numerous anti-abortion bills as a member of the Nebraska Legislature. Perez quickly distanced himself from Mello, reaffirming the Democratic Party's commitment to abortion rights. But Mello's candidacy revealed a growing rift between national leadership, national abortion rights advocates, local abortion rights advocates, and some progressives. Still, Perez reaffirmed that despite the controversy over the DNC's endorsement of Mello, that the party still had "no litmus test" on abortion.
Luján's decision, however, has nothing to do with electing local progressives and instead is a tactic to elect centrists to the House. According to The Hill, Democrats have little choice but to support anti-abortion candidates if they want to even have a shot at retaking the House.
Democrats are unlikely to win the 24 seats they need to recapture control without contesting more conservative districts. The last time Democrats won control, in the 2006 midterm elections, the party recruited — and supported financially — a significant number of Democrats who did not entirely support abortion rights, including Reps. Brad Ellsworth (Ind.), Baron Hill (Ind.), Heath Shuler (N.C.) and Jason Altmire (Pa.).

"Both [then-DCCC Chairman] Rahm Emanuel and [then-Democratic National Committee Chairman] Howard Dean with his 50 state strategy understood that in order to win districts that had eluded Democrats in previous cycles, they were going to have to field candidates who didn't look like national Democrats," Altmire told The Hill. "People understood the class of '06 was driven largely by the centrist candidates."
G/O Media may get a commission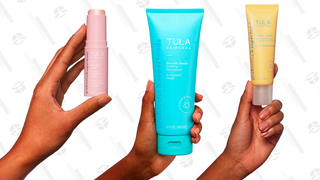 Maybe that's true, but the election of centrist Democrats proved to be a roadblock on the passage of the Affordable Care Act. In 2009, Pelosi ceded ground to that anti-abortion Democrats who threatened to kill the ACA if it didn't include even stricter abortion restrictions (remember all of the fun over the Stupak Amendment?). So the question remains: Even if Democrats retake the House, at what cost do they do so?
It's clear, too, that Democrats are trying to move to economic arguments by appealing to middle-of-the road voters. In early July, the DCCC sent out "tester" campaign slogans, one of which included the uninspired possibility, "I mean, have you seen the other guys?" Democrats settled on a new plan which they rolled out last week, "A Better Deal" that promised "better jobs, better wages, better future." The plan is largely economic, a kind of limp image of what Democrats believe working families want and a concession, too, that their recent electoral failures were because they have lost blue collar workers. There was no talk of abortion or other rights when Democratic leadership revealed the plan (its roll-out was largely overshadowed by the Senate's health care debacle).
NARAL National Campaigns director Mitchell Stille called Luján's decision "bad policy that will lead to worse politics." "Anyone who actually thinks that Donald Trump and the GOP candidates won in 2016 because of their opposition to abortion rights is sorely mistaken," Stille said in a statement, adding that "Economic security isn't possible without reproductive freedom. Gender equality isn't possible without reproductive freedom." EMILY's List Press Secretary Alexandra De Luca also stressed the link between reproductive rights and economic rights. "For many women, the most important economic decision they make in their lives is choosing when and how to start a family," De Luca said in a statement.

For whatever reason, Democratic leadership seems to be driven by a false idea that history and ideas are formed in the center rather than at the periphery. In the process, they seem more than willing to continue to divest themselves of voters on the left, hoping that "have you seen the other guys?" will somehow work, even though it never has before.
Update: In a statement, Planned Parenthood Federation of America said that "Supporting reproductive rights, including abortion, is central to expanding economic opportunity to all Americans. They are fundamental to women's economic security, health and well being." As a "nonpartisan organization," PPFA promised to "hold any political party, any candidate for public office, and any elected official accountable for not standing up for reproductive rights."