It's an attorney's job to provide the best defense possible for their client, but while attempting to reduce the prison sentence of a man convicted of sexually abusing a 14-year-old, Thomas A. Warda engaged in some world-class victim blaming. According to his stunningly offensive argument, this teen temptress preyed her 52-year-old softball coach, and she'll probably forget all about what he did to her.
Michigan's Saginaw News reports that earlier this month, Mickey T. Gotwalt pleaded guilty to three counts of second-degree criminal sexual conduct against his former student in exchange for the dismissal of nine other sex crime charges. At his sentencing, Warda told a judge:
"I mean (Gotwalt) didn't kill this girl ... I mean this isn't - I don't think she's gonna have psychological injury the rest of her life ... I mean he'll be in prison, but, you know, she'll have forgotten all about this at some point."
Gotwalt was sentenced to a minimum of seven years and two months to a maximum of 15 years in prison, but according to Warda, giving him more than four to eight years amounts to a "death sentence" because he has cancer. In fact, the illness may partially explain why Gotwalt abused the girl. Before the abuse started, the cancer made him feel "vulnerable" and "sick and ill and depressed." Plus, the medications "allowed him to miss some of the signs" that his relationship with the girl had become inappropriate. Apparently people being treated for cancer don't always realize that looking at nude photos of a 14-year-old student is wrong. Warda admits that his client should have known better:
"When she started sending him naked pictures of herself, he should have done something ... He should have contacted the school or a counselor or something, but he was vulnerable and he was sick and he made a very poor judgment."
G/O Media may get a commission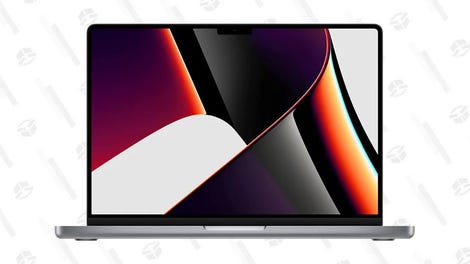 Save $300
2021 14" 1TB MacBook Pro
Something really must be done about these 14-year-old who send their middle-aged coaches naked photos with absolutely no provocation!
Of course, Gotwalt isn't totally innocent. He did send the girl hundreds of texts in one day, continue contacting her after he was banned from school property, and buy wedding rings for her despite the fact that he's married. There was also a plot to kill the girl's mother so he could run away with her, but all of this just amounts to "bad judgment." Warda reminded the court that his client is "not a pedophile." You see, he only pleaded guilty to the crimes involving sexual touching, not penetration. Warda adds that, "you don't take up being a pedophile at 51 years old," and this was only, "one incident involving one student over 35 years of his (coaching) career" (that we know of). We should really be commending the man for resisting the urge to abuse children for more than three decades.
Thankfully, no one else in the courtroom bought Warda's twisted logic, and it seems the judge and prosecutors were thoroughly horrified. The judge admonished, "The victim of this offense will be impacted the rest of her life. This just doesn't go away," and a prosecutor added, "The hope is that over time that impact will be lessened, but to suggest that she will forget about this and move on, there's absolutely zero chance of that happening." Somehow, we doubt that message sunk in for Warda. Though his effort to have his Gotwalt's sentence reduced wasn't successful, he'll probably go on to argue other cases. That means more chances to perfect his despicable victim-blaming tactics.
Teenage Girl Will Forget Sex Crimes Committed Against Her By Former Caro High Softball Coach, Lawyer Claims [Saginaw News]