A recent uproar from LGBT groups in the Philippines over a 'defaced' advertisement where a gay male couple's hands were blacked out has led to the revelation that the ad was self-censored, after the Philippines Ad Standards Council expressed concern about the photo.
The 'defaced' advertisement from clothing company Bench is one of four which depicts both heterosexual and homosexual couples. The featured couple, Vince Uy and Niño Gaddi, had their clasped hands blacked out (the original photo can be seen in the third image above), and initially it was thought that the blacked out portion was the work of vandalism. However, the blacked out version was revealed as the final approved version in a statement from a marketing representative, Jojo Liamzon, Advertising and Promotions Manager at Suyen Corporation (the parent company of Bench) obtained by Stylebible.
When billboard images for Bench's 'Love All Kinds of Love' campaign were submitted to the governing body, the company received concern over the photo of Vince Uy with his arm around partner Niño Gaddi, hands clasped in a show of affection. Prior, the governing body had rejected photos of the couple looking lovingly at one another, citing 'traditional Filipino family values' as a reason. The approved version with hands obscured is the billboard that Bench had printed and that now stands on Edsa.
Despite engaging in self-censorship, Liamzon explained that the company felt that the blacked out hands don't actually censor the message of the advertising campaign.
Despite its deviation from the original idea, Bench decided to move forward with the billboard showing obscured hands because the company believes that its message was still intact: That of well-represented diversity, and the message that same-sex relationships are just as substantial and valid as heterosexual romantic love and familial love. We still stand by a message of unity, not division. And while the message has been compromised to an extent, the most important thing is that at least, for the duration that the billboards are up, the voices, lives, and loves of the LGBT community are unavoidable and undeniable on an avenue Filipinos from all walks of life cross every day.
G/O Media may get a commission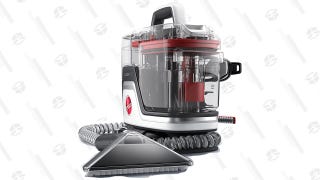 Save $10
Hoover CleanSlate Plus Carpet & Upholstery Cleaner
The irony of the Ad Council's position is strong. Blacking out the hands really does nothing to change the fact that Liamzon is correct: anyone seeing the billboard should understand immediately what the message is. It is clear that Uy and Gaddi are a expressing a valid form of love, just as it is clear that the other pictures that they too demonstrate valid forms of love. Why the Ad Council feels that merely asking for self-censorship (prior restraint, sort of) from the company on hands is going to make one damn bit of difference in the rising acceptance of queer relationships in the Philippines is a mystery. But, uh, okay.
Image via Bench.