Deepica Mutyala recently became known on the Internet as the destroyer of all that is good when she ruined the curls of a black model named Malyia McNaughton during a live segment on the Today Show. Many, including McNaughton, don't blame Mutyala at all.
In an interview with The Cut on Friday, McNaughton says that she had been very excited to work with with Mutyala, who is well-known as a YouTube beauty-blogging personality. She was added to the roster last minute, so she missed the run through for the "60-second summer hairstyles." She says that they tried the up-do backstage before the show, and it looked completely different.
As the segment was airing live, did you get a sense that your hair wasn't panning out to what you and Deepica had planned?

Unfortunately once the cameras rolled live, the pressure just kind of hit. I kind of knew halfway through that it wasn't coming together the way that we initially intended, but I knew that we just had to keep going because at the end of the day it's live TV.
Afterwards, there was no hint that Mutyala knew anything had gone wrong, and it wasn't until things blew up on social media that they realized the derailment of their plan had been noticed at all. After McNaughton's determined "this is fine" face was posted to Facebook, the hair disaster went so viral that Mutyala reached out to her to apologize. McNaughton seems to want to remind everyone that everybody makes mistakes, and Mutyala is also a woman of color in the beauty biz who she'd like to see supported:
She keeps apologizing, but I totally understand the pressure that she was under, and I'm grateful for the fact that she wanted to be inclusive, and because the natural-hair movement is such a large segment. She is also a woman of color. I think that in the beauty industry we're both people who are trying to break boundaries, and I thought that it was great that she wanted to show diversity. I commend her and applaud her for that, and that's why I think people need to look at that angle as opposed to completely bashing her, because I feel like that closes the door for future opportunities. She will probably never work with a natural-hair model again, in regards to hair, and I think that that's unfortunate, because that's what we're fighting against as both women of color.
G/O Media may get a commission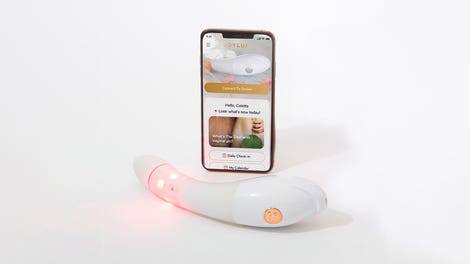 $50 Off
Joylux vFit Gold Device
It looks like Mutyala is at least trying to learn how she might someday, somehow work with a natural hair model again. On Wednesday she posted a video with McNaughton and three natural hair advocates with big social media profiles: Akilah Hughes, Kamie Crawford, and Tiarra Monet.
The ladies appear to be drinking wine while they giggle in Monet's salon and give Mutyala a baseline understanding of some of the challenges they face caring for and styling their hair. Then's there's some old fashioned revenge as Mutyala gets the 60 Second treatment at McNaughton's hand:
There's plenty of product placement sprinkled throughout the advice, but that's pretty standard for beauty vlogs, and hell, maybe a big reason why people like them. It's cool that Mutyala is trying to learn from her embarrassment, or at least clear the air before booking any more live acts.