Michelle Obama's trip to Spain - and her travel wardrobe - have evoked outraged references to Marie Antoinette from the ever-vigilant press.
It's no secret that Michelle Obama's wardrobe has been the object of scrutiny — see the HuffPo's gallery of her "repeat outfits" today by way of example. Her style has elicited raptures and books and Jackie comparisons, and she's credited with bringing attention and business to emerging American designers. Her attitude always seems to have been, people will be watching anyway: let's make it count.
They call August "silly season" for a reason: with a dearth of news stories (maybe everyone's just on vacation, or too hot for scandal) Chelsea Clinton's wedding nabs the front page for a full week and Michelle Obama's trip to Spain becomes a cause celebre. But is there any validity to the criticisms?
Kate Betts, writing on the Daily Beast, doesn't think so. Indeed, she feels the focus on Obama's wardrobe is not just misplaced but wrong-headed. Writes she,
What critics of Mrs. Obama have forgotten is that style matters for women in high-profile positions, not just for the pageantry and the symbolism of it, but also for the lessons it can impart. Perhaps there was nothing to be learned from Laura Bush and Hillary Clinton's $2,000 Oscar de la Renta pantsuits, because they didn't have much invested in the way they looked. But critics of Mrs. Obama fail to see the powerful message of self-possession that her appearance carries for millions of young women, especially African-American women. Style and the care you put into how you present yourself to the world are not just frivolous endeavors, they are powerful tools of communication. Mrs. Obama uses her own image and appearance to connect with other women and to teach them how to take care of themselves, how to improve their lives. That look is not expensive; it's priceless.
G/O Media may get a commission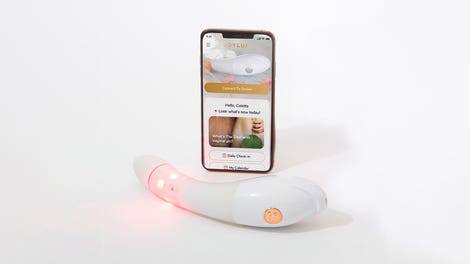 $50 Off
Joylux vFit Gold Device
While I'm not sure I agree about Clinton and Bush - they arguably adopted a uniform as their own response to the scrutiny, effectively ending it - there are important points here. Traditionally, First Ladies have fallen in public imagination into two camps: "Frivolous" ones who care about fashion (think Dolly Madison, Mary Todd Lincoln and Nancy Reagan) and those serious First Ladies who don't (Roosevelt, Carter, Clinton.) Jackie Kennedy might be called an exception, but was still very much defined as a figure primarily associated with aesthetics. Bridging that gap, and owning the focus on appearance that every First Lady has to deal with whether she pretends to or not is a significant move. Is it, as Betts suggests, "carefully attuned to our tough economic times" in its canny mix of high and low? It's certainly calculated; and in ways the author may not even mean, I'm inclined to agree. Those who love Michelle will continue to be riveted and charmed by the glamour and style. Meanwhile, there's still plenty for critics to gleefully bemoan. In a word, everyone's happy: and really, how often can you say that?

Leave Michelle's Clothes Alone [The Daily Beast]
Michelle Obama's Wardrobe Repeats: Better The First Time Around? [Huffington Post]
Material Girl Michelle Obama Is A Modern-Day Marie Antoinette On A glitzy Spanish Vacation [NY Daily News]

Let Them Eat Tapas? Mrs Obama Faces Holiday Fury [Independent]