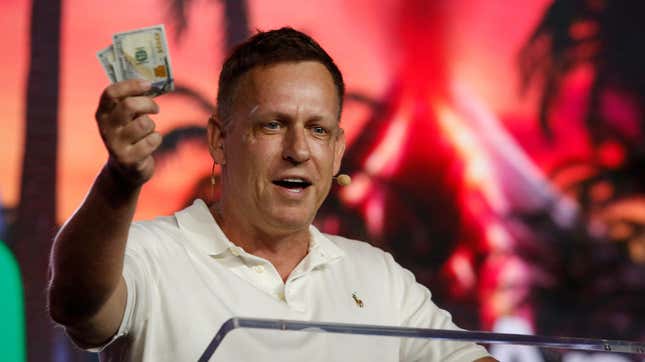 The tragic death of 35-year-old Jeff Thomas, a model and social media influencer who had been in a long-term, self-described "kept" relationship with billionaire Republican activist Peter Thiel, is being investigated as a possible suicide, the Intercept's Ryan Grim reported on Thursday.
Infamously Thin-Skinned Man Joins Twitter's Board
Thiel, a Donald Trump supporter who donates to anti-LGBTQ+ candidates and has invested millions into anti-feminist menstrual tracking and conservative dating apps, reportedly met Thomas at Coachella roughly seven years ago, and the two entered into a romantic situationship fueled by Thiel's extravagant gifts (including a $300,o00 car and $13 million home in Hollywood Hills). Thomas told the Intercept before his untimely death in March that he often disagreed with Thiel on politics and tried to be a voice of reason, especially on queer issues. "I was wondering why he was being affiliated with someone like Trump, and investing in him, if he's gay," he said. But ultimately, the perks were worth it.
Thomas reportedly ended his relationship with Thiel this past fall, as it started to cause him great anxiety. "I don't think it's very satisfying, to be honest, to be kept," Thomas told Grim. "I saw the spark in me fade away, and it was toxic, and it was unhealthy, and I've had multiple talks with myself this year, about getting out of it, and I've actually discussed to him about it, like, I can't do this anymore. You know, my mental health is at risk."
On March 8, Thomas' body was found at the bottom of a Miami apartment complex. While his agent suggested to the Daily Mail that he may have accidentally fallen to his death while taking a selfie, his brother, Skylar Ray Thomas, wrote on Facebook that he believes it was a suicide.
"As you have followed through the years, Jeff traveled the world and lived life to the fullest," he wrote. "What you may not know, is Jeff struggled with addiction and mental health challenges, which ultimately led to his tragic passing. While Jeff's struggles were difficult, we want to remember him for the kind and caring person he was. He had a contagious sense of humor, a love for music, art and family, and a passion for helping others. He touched the lives of so many people, and his memory will live on in our hearts forever."
Thiel has not responded to requests for comment.