Last week I was looking through my friend/coworker Joy's Facebook photos and came across a signed photo she had from Joan Rivers. At work the next day, I asked her about it and we got into a half-hour conversation about celebrities we'd written to as kids. It became quickly clear that Joy's collection of celebrity correspondence far surpassed my own, and possibly anybody else I'd ever heard of before (I mean, just check out Winona Ryder and Tatum O'Neal's responses). Kindly, she shared some of her favorite stories of reaching out to some of her favorite stars and how successful she was at eliciting their responses. Make sure you check out the slideshow of Joy's lovingly-curated collection (including photos not written about here).
Moving around a lot as a kid is rough. One comfort each time my family started over was knowing that wherever we moved, I'd find something familiar on TV or the radio. Celebrities were my imaginary friends.
In second grade, armed with a mostly pink, totally saccharine collection of stationery—Lisa Frank, anyone?—I decided to try and make one of my imaginary friendships real.
I was going to write a letter to my favorite MTV crooner: Huey Lewis.
"Do you believe in love?" he sang to me as the needle circled the vinyl on my plastic Fisher Price record player. Of course I believed in love. I was seven, and I had no idea what real heartbreak was.
G/O Media may get a commission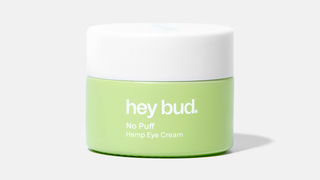 15% off
Hey Bud - No Puff Hemp Eye Cream
So I poured my heart out to Huey in a three-page, handwritten note and popped the letter into the mail, waiting deliriously for a reply, or at the very least a signed photograph.
I believed in Huey Lewis like I believed in Santa Claus, and Huey Lewis was the first man to break my heart of rock and roll into a million pieces.
Each day I came home with a bursting hope that there would be a reply in our mailbox. I got nothing.
No form letter. No fake-signature stamped photo. Zilch.
Power of love, my ass.
Always my loyal supporter, my mother swears she never completely forgave him for ignoring me, and I mostly believe her, even though she did recently "like" him on Facebook.
I didn't know it then, but declaring your love to a musician never works out. Even after we moved from Iowa to Missouri, my optimism remained. I was certain Huey was just busy. I told myself that he would somehow find me at my new address when he had time to write.
In my naive heart and soul, I didn't completely give up on hearing from him until we moved again, this time to Indiana. Older and wiser, I took Huey's advice "If This Is It," and I told myself I'd better let him go.
Although disappointed by the non-exchange, I remained a persistent little shit. My failed Huey Lewis pen pal experience only made me more determined to attempt to connect with other celebrity comrades. And this time I wrote to everyone whose mailing address I could find at the library.
Many of the others were more faithful correspondents than Huey. Here is a chronicle of notable responses (and rejections) that I received, including tips about how one star maintained her figure, as well as a case of mistaken identity and an envelope full of receipts:
Roseanne
In middle school, I couldn't get enough of Roseanne's show. I still can't resist a rerun if it's on TV. It was a long shot to write her while she was so famous, but I did anyway.
Autograph? ↑
I received a postcard-sized, black-and-white photo of Roseanne that featured what looked like a machine-generated signature, but I didn't care. Roseanne (or one of her minions) wrote me back. Huzzah!
Status?
I still have the autograph. Roseanne, if you're reading this... let's catch up. Do you have a loose meat recipe that works for tofu? Your pen pal and fan, Joy.
Winona Ryder
Several months after writing to Winona, my letter was returned to me—unread—with the words "I do not want this—return to sender" scribbled in red ink on the front of the envelope, right over my custom artwork. It wasn't unusual to get letters returned because I had written to an out-of-date address. However, it was unusual to get a letter returned with a mean note attached. As her character Veronica from Heathers would say, "What's your damage, Winona?"
Autograph? ↓
I was so furious that I tore up my returned letter and threw it away.
Status?
All I got from Winona Ryder is this funny story and an excuse to never see one of her movies again.
Jason Priestley
I was a whore and professed my love in handwritten notes to both Brandon, aka Jason Priestley, and Dylan, aka Luke Perry.
Autograph? ↑
Brandon, the good guy, sent back an autograph. Dylan, the bad boy, didn't acknowledge my note in any way.
Status?
Naturally I saved the autographed photo, and I've been on Team Brandon ever since.
Loni Anderson
I couldn't resist reaching out to Venus Flytrap, Johnny Fever, and Jennifer Marlowe, aka Loni Anderson. It was the late '80s, and I watched a lot of WKRP in Cincinnati reruns after school.
Autograph? ↑
Loni was the only one to reply, and she thoughtfully sent me an autographed picture as well as a strange form letter that was filled with lifestyle and beauty tips. Here are some of the most Goop-esque passages:
"I am a firm believer in keeping the skin soft and moist, and have been using moisturizers on my face and body daily since I was fourteen."
"I am 5' 6" tall, weigh 115 lbs., and my eyes are hazel. Although I have never had a weight problem, I changed my eating habits to include fish, chicken, and vegetables, but rarely eat red meat."
"My favorite color is pink. I love Italian food, reading mystery novels, listening to classical music and opera."
"I have an extensive collection of Snow White memorabilia."
Status?
I gave away her autographed picture as a gift to a friend, but I still have those timeless tips.
John Ritter
Can you believe that John Ritter has been dead for more than 10 years? It makes me sad to think about it. I loved Three's Company so much that I religiously watched the one-season spin-off, Three's a Crowd, even though Vicky couldn't hold a candle to Chrissy, Janet, or even Terri.
As you might have guessed, I sent a very geeked-out letter to John Ritter. I had gone so overboard that I was certain I wouldn't receive a reply.
Autograph? ↑
I was wrong! It must have been just the right amount of crazy because John sent back the coolest photo of the whole Don Knotts-era cast that included signatures from everyone. It was my 7th grade prized possession. I was so proud of that thing.
Status?
I gave the photo to my best friend at the time. I asked her recently if she still had it, and she told me that it was ruined when her parent's house flooded. I still have the typewritten envelope it came in, though.
Sarah Jessica Parker
Like me, Sarah Jessica Parker has curly hair, knows all the words to the songs fromAnnie, uses her middle name, and was born in Ohio. So much in common! We are practically twins—or, so my pre-teen brain discerned when I decided to pour my heart out to the Girls Just Wanna Have Fun and Square Pegs star .
Autograph? ↑
In one of my quickest turnarounds, the sweet fashionista sent me an autographed photo as well as a handwritten note—front and back—commenting on every silly thing I had written to her in my note.
Status?
Years later, just as the first season of Sex and the City was all everyone was watching, I was asked to help find items for a Chicago charity's silent auction. I gave them my SJP photo and letter. Knowing how charitable SJP is in real life, I somehow think she'd be tickled to find out that her generosity inspired me.
Richard Marx
When celebrities are in their prime, I would write, but I wasn't a completely deluded fool thanks to my Huey experience. After that I was always surprised and delighted to hear back, and even more so if what I got back included personalized pictures or notes. My mom loved Richard Marx, so I wrote to see if he might send an autograph for her.
Autograph? ↑
Despite being on the radio non-stop and on tour, Richard (or his management team) sent me a personalized photo. The only problem? It was inscribed to me instead of to my mom. My Christmas gift plan was foiled. I wanted to be mad, but Richard thanked me for "being so supportive" in the inscription. How could I stay mad that he didn't actually read my letter after he sent an autograph that was basically a big photograph-based thank you note?
Status?
I still have that "personalized" photo. Thanks, Richard.
Tatum O'Neal
My little sister Tatum (aka, Tate) is named after Tatum O'Neil, and for the longest time she hated it because everyone pronounced it wrong. (Side note: Thank you, Channing Tatum, for your unbelievable abs and for teaching the world that Tatum isn't pronounced like Taa-Tomb or Totem.) To help Tate appreciate her name, I wrote her namesake, the feisty Bad News Bears star Tatum O'Neal, and asked her if she would be so kind as to send me an autographed "To Tatum, From Tatum" photo to give to my Tate for her birthday.
Autograph? ↑
Not only did Tatum personalize and autograph a beautiful headshot, just as I had requested, but she also added a thoughtful birthday message. Sometimes the autographs I received came with form letters or short notes, but Tate's Tatum O'Neal autograph? It came in an oversized manila envelope along with a bizarre handful of random food and clothing receipts. Confused but certain Tatum might want the receipts back since they appeared to have credit card info on them, I mailed them to her—with a thank-you note of course because my mom raised me right!
Status?
Tate still has the framed Tatum O'Neal autograph, but I never heard back from Tatum O'Neal after I sent her back all those receipts.
Elizabeth Taylor
Was there anyone more glamorous in the '80s than Elizabeth Taylor? Well, except for the Dynasty gals, I don't think there was, so I obviously had to write to Michael Jackson's BFF.
Autograph? ↑
I'm 100 percent certain the autograph on the photo she sent was a fake-out, but I have to admit that it was a class act to send the autograph along with a faux hand-written note on her faux personalized stationery.
Status?
I still have it all!
Susan Lucci
Speaking of glamour queens, I was raised on ABC soap operas (thanks, Mom), so All My Children's empress Erica Kane was an obvious inclusion for my autograph-acquisition industry.
Autograph? ↓
Whoever reads Lucci's fan mail missed the part of my long note that mentioned my young age. Or, at least, I hope that's the reason why—after writing—I started to get regular postcards from Susan Lucci that were no more than advertisements for the beauty products (like anti-aging creams) that she hocked on QVC.
Status?
I am a hoarder who loves kitsch, so I clearly still have a handful of those postcards.
Denzel Washington
We weren't allowed to watch war movies growing up because my dad doesn't like them, so I had to sneak watch Glory at a friend's house to see my beloved Ferris Bueller, err I mean Matthew Broderick, in the acclaimed drama. Little did I suspect that after watching it, I'd wind up obsessed with Denzel Washington and feel compelled to write to him.
Autograph? ↑
Like with Roseanne, writing Denzel and expecting a personalized note was a long shot, but he did send a mechanically autographed and very handsome postcard-sized photo of himself that I may or may not have kissed upon receipt.
Status?
Duh. Of course I saved it. Hello, it's Denzel!
Bono
Confession: I never really liked U2. They seemed to always be on the radio when I was hoping to hear Van Halen or Billy Idol instead, but I've come to appreciate Bono's swagger and dogged charitable work.
Autograph? ↓
Since I am not really a fan, I never wrote Bono, which is why what happened next was so surprising.
Status?
Earlier this fall he sent me U2's complete new album for free. It just showed up in my iTunes. Thanks, Bono! I'm sure I'll listen to it some day.
Related pro-tip? If you plan to write to someone in a band, good luck! Most will just send you a bunch of generic information about how to join their fan club (uh... thanks, Kim Gordon and Michael Stipe) or subscribe you for free to their fan club's newsletter (love you so much, Dead Milkmen).
Claire Zulkey runs Zulkey.com. She lives in Chicago.
Joy Olivia Miller now gets celebrity autographs in the classy, acceptable way for adults: by going to book signings. But celebs, beware! If you're in her vicinity, Joy is likely to pretend to be texting on a smartphone when she is actually taking your picture to show her friends on Facebook.

This post was previously published on Zulkey.com. Republished with permission.
All images courtesy of Joy Olivia Miller