You know how Gillian Anderson just broke up with her man-friend? And you know how David Duchovny got "quietly divorced" from Tea Leoni because of his sex addiction? And remember that stupid boner-deflating shit they pulled in the 2nd X-Files movie where they "revealed" that Mulder and Scully have just been totally humping off-camera this whole time? Well, according to totally not credible internet tabloid sources, it might be true IRL. GAAAHHH I WANT TO BELIEVE.
A source exclusively told CDL that David and Gillian have been in a serious relationship for some time now and she and her children are shacking up with the Californication actor. This is a long time coming for the pair whose chemistry on their hit show was always a source of tabloid conjecture. Gillian and David worked together from 1993 to 2002 and starred in the movie version in 2008. Although it seems every fan in the world wanted to get the two together, a relationship was never declared during filming.
If you need me, I'll be locked in my room rewinding all the X-Files episodes where Mulder and Scully are forced to impersonate a married couple because of shenanigans. And also that bullshit from the first movie with the bee. Long have I hated that fucking bee. [CDL]
---
Roseanne Barr has thrown her hat into the ring for president, representing the Peace and Freedom Party (her running mate is Cindy Sheehan; the two met through Michael Moore). Here's why you should vote for her:
"Vote for me. I'm not a liar. I'm not a thief. I'm not a whore," she says. "And I'm not a politician. I think that uniquely qualifies me to become president of the U.S...In order to be able to write a good joke, you have to find the truth," she says. "I've spent 30 years as a comedian focused on working-class issues. Working-class people do not have a vote in this country. That's the real reason why I'm running and why I've put up my own money to seek ballot access in all 50 states. I will keep running till I win."
G/O Media may get a commission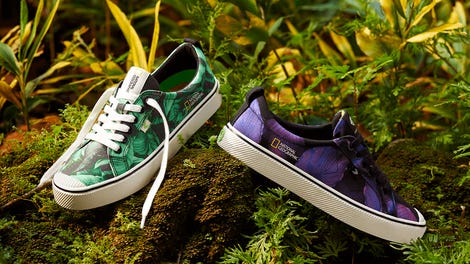 New New New
Cariuma + National Geographic
Way to alienate the whore demographic, Roseanne. [DailyBeast]
---
Spice Girl Mel B (a.k.a. Attention Spice) keeps getting everyone all worked up by hinting at a Spice Girls reunion at the Olympics closing ceremony—mainly by traipsing around London Tweeting about fancy clothes.
Last week, she posted an image of three different pairs of shoes on the social networking website.
"Guess which shoe belongs to which spice girl!!!" she captioned it.
"You guys are spot on, mine is black, emma's pink, and geri's gold, you lot are fab (sic)!"
Call me Indifferent Spice, but Olympic closing ceremonies + Spice Girls reunion = The night when 2 things I don't care about become 1. [News.au]
---
Great headline. Just a great headline. "Randy Travis Leaves Jail in Borrowed Clothes After Naked Arrest":
The 53-year-old singer emerged today from the Grayson County jail in Sherman, Texas wearing light blue scrubs, a baseball cap and no shoes.
Man. Nothing like getting out of jail and not even having one friend willing to bring you some fuckin' flops. [E!]
---