Dave Chappelle decided to use his 60 minute set at NYC's The Cutting Room on Friday night to discuss his distaste for Hillary Clinton. I bet everyone who spent $150 on tickets hoping for a chuckle or two was just thrilled!

First, a spoiler: Chappelle cast his early vote for Hillary in Ohio, so it's unclear why he opted to dedicate such a solid chunk of time to knocking his professed candidate of choice. Maybe it was in attempt to gin up interest in his upcoming Saturday Night Live appearance, which will mercifully take place on November 12, 2016 AE (After Election).
The Observer was there and has a convoluted play-by-play of Chappelle's more tendentious moments, starting with what he posits was Clinton's direct hand in leaking the infamous Billy Bush/Trump Pussygate Tape.
"What I heard on that tape was gross," Chappelle said. "But the way I got to hear it was even more gross. You know that came directly from Hillary." He stated this had put him off a candidate he had already known was "not right." He likened voting for her to a hypothetical situation of actress Halle Berry breaking wind in his face during sexual relations. "I'm still going to go for it," he said. "But I wish she hadn't done that thing."
Let me get this straight. The disgusting aspect of the leaked tape isn't its contents, but the fact that it was leaked in the first place? And then the further logical leap that it was Hillary who leaked it? Is he trolling us? Is he joking? It feels like something's being left out here.
He also apparently took a shot at the media, accusing it of distorting Trump's comments despite the fact that the the great Pussy Grabbing video requires little, if any, third party analysis:
"Sexual assault? It wasn't. He said, 'And when you're a star, they let you do it.' That phrase implies consent. I just don't like the way the media twisted that whole thing. Nobody questioned it."
G/O Media may get a commission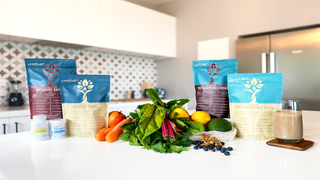 Then there was...whatever this is:
The comedian wasn't feeling so much love for women's rights, gay rights, and transgender rights activists, saying, "They should not be having that conversation in front of black people. You go ahead and feel something about your rights. But if you're putting sexism and homophobia and transphobia in front of racism, you should be ashamed of yourself."
No recording devices are allowed in The Cutting Room, and Doreen St. Felix, a writer for MTV News, is saying that much of the Observer's recollections have been taken out of context.
I'd still want my money back.
Update: This post has been updated with credit to St. Felix for her tweets.