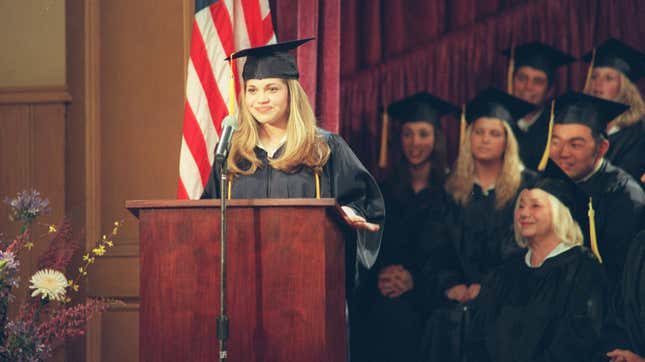 Male executives at networks for children's television were gross—or, are, as I'm sure future tell-alls will soon reflect. And as executives in the nineties and early-2000's are starting to be called out for their treatment of underage girls, in particular—thank you, Jeanette McCurdy, Alexa Nikolas, Christy Carlson Romano, and more—Boy Meets World star Danielle Fishel has joined the chorus.
Luke Macfarlane Talks Starring In Historical Gay Rom-Com 'Bros'
"I had people tell me they had my 18th birthday on their calendar," Fishel, who portrayed Topanga Lawrence in the smash hit series, revealed on a new episode of her podcast, Pod Meets World. "I had a male executive—I did a calendar [shoot] at 16—and he specifically told me he had a certain calendar month in his bedroom." Before I go on, I'll note here that Fishel began starring on the show at just 12 years old.
Her co-hosts, Rider Strong and Will Friedle—who played Shawn Hunter and Eric Matthews, respectively—then noted that they remembered perceiving Fishel as "very mature" and "very advanced" for her age, which I imagine they thought would be a helpful thing to add. She agreed. "As a kid, I always wanted to be older. I always wanted to be an adult. I wanted to be seen as an adult," she explained. "So getting adult male attention as a teenage girl felt like—I didn't think of it as being creepy or weird."
Fishel added that she always knew how to "hold a conversation with an adult," which, of course, is not consent to be sexualized by one.
"I felt like it was validation that I was mature and I was an adult and I was capable and that they were seeing me the way I was, not for the number on a page," she continued. "And in hindsight, that is absolutely wrong."
As a human woman who inevitably fell prey to the same thinking as a teenage girl, only to internalize similar harmful experiences with grown men and then parrot them to a therapist 10 years later, I can relate. And speaking of: "I didn't really process how it affected me as a teenager—or how it affected me in my 20s or even in my 30s—up until the last few years," Fishel admitted, "and then I was really able to look back on it and connect the dots."
Fishel said she thought she had to keep going without making her discomfort known to anyone, because she was already hyper-conscious of being perceived as something she wasn't. "I would stick it out for the sake of sticking it out because I didn't want anyone to think I thought I was better than them or that they were not good enough for me."
Frankly, I think it's safe to say that 16-year-old girl was absolutely better than any lecherous executive with a photo of her hanging in his bedroom.