Look. I'm sorry, okay? I'm really, really sorry. Sometimes it's just there, you know, and it would actually take more effort to not say it? So it's really not MY FAULT that in regards to a gay sex scene in his upcoming film Kill Your Darlings Daniel Radcliffe went ahead and said that he "stretched himself." AS AN ACTOR, YOU GUYS. As an actor! Jeeeeeeez!!! Radcliffe, as an actor, plays poet and iconoclast Allen Ginsberg in the film, viewing it as a prime opportunity to stretch (professionally) and distinguish his grown-up career from his boy-wizard past.
"I would be a very stupid person if I didn't expect some reaction to that," he confessed. "In a way there's been less reaction to it than I thought there would be which I'm quite pleased about, a lot of people are choosing to be focused on the film."

"And to be honest, I don't really mind what reasons people go in to see the film," he added. "If they're slightly salacious or whatever. Ultimately, they're going to go in and see a really compelling drama."

..."I think now, the thing is, I don't just want to not repeat Harry Potter but I also don't want to repeat the Woman In Black or now Kill Your Darlings. I think any actor that really enjoys what they do and wants to have a long career realizes that versatility and you know stretching yourself, it's more fun that way to be honest."
Despite his professed desire to expand beyond the iconic fantasy role of his youth, however, Radcliffe does appear to spend at least part of Kill Your Darlings handling wands and exploring a chamber of secrets. #NOTMYFAULT #PLEASEDONTBEMADATME #SOMETHINGSAREJUSTSITTINGTHERE [E!]
---
Tom Hanks did a pretty adorable Reddit Q&A.
After being reminded of how awesome he is, Hanks was asked, "If you could go back in time to send one message to yourself at age 30, what would you say?"

It wasn't some sort of epiphany turned life lesson that he answered with, but a simple fact: "Floss more often."

..."It is probably one of your lesser known movies, but just wanted to say that I watched That Thing You Do countless times as a teenager," one person wrote, to which the actor responded, "It's the one movie I would love to make again."

He may be a light-hearted individual, but even Tom Hanks gets emotional from time to time, especially when watching a particular scene from the 1994 romantic comedy-drama.

When asked whether certain performances from his career tug at his heart, Hanks replied, "When LT. Dan introduced Forrest to his wife, with his titanium legs, i burst into tears..."
G/O Media may get a commission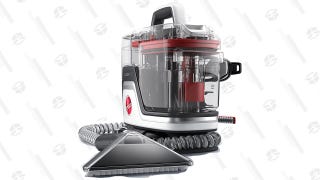 Save $10
Hoover CleanSlate Plus Carpet & Upholstery Cleaner
UGH HE JUST SEEMS SO MAGICAL. [E!]
---
"Hollywood couple" Cherie Johnson and Dennis White (she was on Punky Brewster and Family Matters, and he was in Notorious) say they were racially profiled while on vacation in North Carolina.
"I've been stopped by the police before, but I've never been fearful for my life," Johnson told CNN on Sunday. "They need some kind of sensitivity training."

...As the couple walked back to the car, they said, they noticed a police car with its lights on parked behind theirs. White and Johnson, who are both African-American, say the white officer harshly questioned them about drugs — he found none — and the cash he found in their bags.

...According to White's account, Officer Shad Barfield told Johnson there was a warrant for her arrest, which she disputed, and the officer later recanted. He handcuffed White and then Johnson but did not arrest them.

"He told me ... I was being detained for his safety because he didn't know me," Johnson said.

"At this time I became distraught," White wrote in his account of the incident. "I have been racially profiled several times in my lifetime but it touched my core when my woman was included."
Cool story, cops. Keep up the great work. [CNN]
---
Images via Getty.