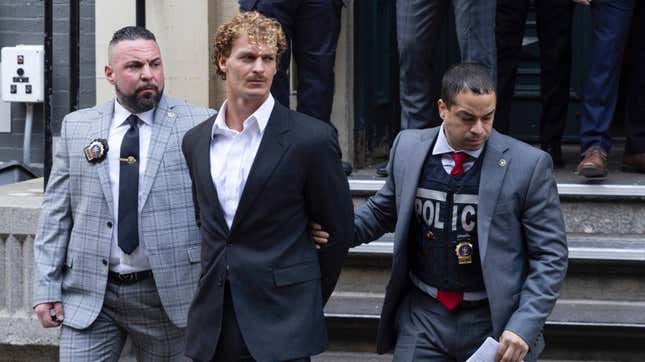 Daniel Penny, the man charged with second-degree manslaughter in the video-recorded subway killing of Jordan Neely earlier this month, gave his first interview with the New York Post over the weekend weekend. And his comments were about as deranged as you'd expect coming from a man who thinks it's fine to kill people who simply make you feel uncomfortable on the subway.

America's Favorite Pasttime: Dunking On Dr. Oz
Penny, who held Neely—an unhoused Black man experiencing a mental health crisis—in a chokehold for several minutes, insisted to the Post that he is "not a white supremacist" and claimed Neely's killing had "nothing to do with race." As evidence of this, Penny revealed that before all "this" (his strangling an unarmed Black man on the subway) he'd been planning a "road trip through Africa":
"I mean, it's, it's a little bit comical. Everybody who's ever met me can tell you, I love all people, I love all cultures. You can tell by my past and all my travels and adventures around the world. I was actually planning a road trip through Africa before this happened."
It's a little bit "comical." That's certainly one way to frame your violent attack on a homeless Black man who was begging for help.
Penny also speaks in the passive voice throughout the interview, referencing Neely's death as if something he somberly witnessed instead of perpetrated with his own hands: "I'm deeply saddened by the loss of life. It's tragic what happened to him. Hopefully, we can change the system that's so desperately failed us," Penny said. Asked if he feels he has anything to be ashamed of, Penny roundly said nah: "I don't, I mean, I always do what I think is right."
The Post seemed to be hand-feeding Penny opportunities to humanize and heroize himself, to invoke his international travels while in the U.S. military as some hollow marker for tolerance and acceptance, as if literal video footage of him choking an unarmed Black man doesn't exist across the internet. Penny told the Post about his love for his three sisters, his love for surfing, taking after his father and grandfather, his struggles amid his parents' divorce—even where he was heading on the night that he killed Neely: "I was going to my gym," he said. "There's a pool there. I like to swim. I was living in the East Village. I take the subway multiple times a day. I think the New York transit system is the best in the world and I've been all over the world." The article also includes photos of him posing with people of color in different countries.
By contrast, few outlets reported on Neely's struggles in the foster system, how he often gave his own money earned from street dancing to fellow foster kids for food and clothes, how he fell apart after the death of his mother. Instead, we were subjected to report after report about Neely's entire medical and criminal history, as if past crimes should justify a vigilante killing.
Penny is clearly being advised by his attorneys on exactly how to speak about the incident so as to distance himself from involvement. He issued a sickening statement earlier this month offering condolences to Neely's family and suggesting Neely had merely died of mental health issues, rather than from Penny physically depriving him of air to breathe.
Penny, charged with second-degree manslaughter, is currently out on $100,000 bail. A legal defense fund created by right-wing activists on his behalf raised over $2 million as of last week, with significant boosts from Florida Gov. Ron DeSantis (R) and Kid Rock, of course.