Tutus may be the stuff of little girls' dreams, but to dancers, they're a huge pain in the ass — literally.
The classically-costumed, tulle-encircled, Degas-immortalized Odette may be on the wane. While the tutu's old-fashioned aesthetic is an obvious bane to the forward-thinking company director, the garment presents practical problems that are a real concern, especially in this strapped economic climate. The tutu started as a means of freeing a dancer's legs from the constrictions of long skirts, and contributed to dancers' reputations as scandalous deminmondaines, but today everything about them feels old-fashioned. Says the Guardian, each custom-made tutu involves

12 layers of net skirt stiffened with steel hoops, panelled overskirts layered with embroidery, sequins and lace, delicately boned and decorated bodices...Too short and tight and the dancer cannot move; too roomy and a ballerina spinning through 32 fouettés may feel as though her tutu is about to orbit around her.
Besides being costly and labor-intensive - it's increasingly difficult to find skilled tutu-makers willing to put in the work - the garment is hard for the dancers to navigate. A ballerina describes it as "It's like wearing a big plate...and sometimes it feels very dangerous — because you can't see your feet" — another remembers catching her tiara in her skirt, while male dancers complain about the difficulties of dancing around the skirt's width and the chafing of harsh tulle against skin when they lift a partner. "It's like dancing with two people," says one.
However, some feel that the iconic garment will always have a place on the stage, as well as our imaginations: says one principle dancer, "Obviously, it makes me feel glamorous and feminine, but it also affects the way I work, the articulation of the port de bras and legs. I like the feeling of being very corseted by the bodice, and being very conscious of the angle of the skirt. When you're on stage with all that sparkle, it heightens everything." Many an aspiring Angelina — who wouldn't be caught dead in anything streamlined or conceptual — would agree.
G/O Media may get a commission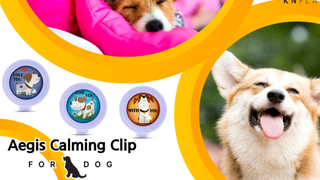 20% off
Aegis Calming Clip for Dogs
Here's a great accompanying video: The Trouble With Tutus
'It's Like Wearing A Big Plate' [Guardian]