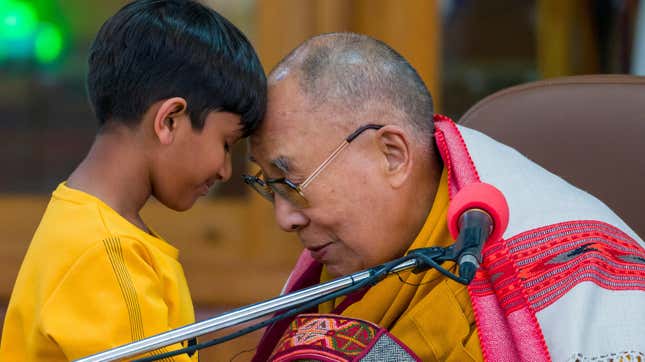 The Dalai Lama is a touchy-feely guy. He's fond of holding hands—just ask Lady Gaga, Sharon Stone, Jeremy Renner, Eva Longoria, or King Charles. He's super into a chin tug. He's got a real penchant for pressing his forehead against another's. Hell, give me a few G&T's, and we have a lot in common. I, however, understand consent where strangers—especially children—are concerned. Sadly, the same cannot be said of the 87-year-old spiritual leader.
Taylor Lautner Doesn't Even Remember Saying 'Bella! Where the Hell Have You Been Loca?'
On Monday, footage went viral of the Dalai Lama kissing a young boy on the lips and prompting him to "suck my tongue" during a public event in celebration of 100 young students who'd just graduated from the Indian M3M Foundation. The disturbing video shows the child approaching the Dalai Lama after he asked to give him a hug. When the boy reaches the platform to embrace him, the man motions to his cheek. "First here," he can be heard saying. Then the Dalai Lama instructs the child to kiss him on the mouth by gesturing toward his lips, and he guides the boy's face to do so with his hand. Finally, he says: "Suck my tongue," as he leans his tongue closer and closer to the boy's face. Let's be clear: It's not just an unsettling display from start to finish; it's the sexual assault of a child before a captive audience.
Though the incident took place at the end of February, the footage only just began circulating online, to the abject horror of many. Even Cardi B weighed in: "Predators could be our neighbors, our school teachers, even people with money, power & our churches," she said via Instagram live.
Of course, the Dalai Lama had a swift—albeit stupefying—response to the backlash:
A video clip has been circulating that shows a recent meeting when a young boy asked His Holiness the Dalai Lama if he could give him a hug. His Holiness wishes to apologize to the boy and his family, as well as his many friends across the world, for the hurt his words may have caused.

His Holiness often teases people he meets in an innocent and playful way, even in public and before cameras. He regrets the incident.
Just in case you wanted to study the world's most half-assed apology for flagrant immorality barely concealed by the cloth, the Dalai Lama's official Twitter account posted a screenshotted version of the statement.
This is not the first time His Holiness has blamed his behavior on poorly-translated attempts at humor. In 2019, he told BBC News that if a women were ever to become the Dalai Lama, she "should be more attractive." He explained off that faux pas by noting that some comments that are "amusing in one cultural context" may "lose their humour in translation when brought into another."
It's also worth noting that while the Dalai Lama has denied receiving payment for speaking at any engagements, at one time, he had some suspicious ties to high-ranking—now incarcerated—NXIVM sex cult members.
I don't know, man. It shouldn't be a tall ask for some substantive accountability here. Sadly though, I was raised Catholic, therefore I know better.