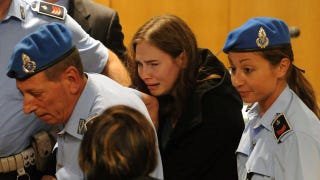 The Daily Mail, the British tabloid that everyone loves to hate, has had its newsprint-stained hand slapped for a major mistake it made back in October. After the Amanda Knox murder verdict was decided, its website reported incorrectly that her conviction had been upheld, when in fact it had been overturned. The article had been pre-written and was only online for about 90 seconds, but that was enough time for an alert blogger to notice the mistake.
This week, the British Press Complaints Commission upheld a complaint against paper for the offending article. The problem was not just with the incorrect verdict, but also with some clearly fictional content within the article. The original piece contained reaction quotes from the prosecutors and reported that Knox, "sank into her chair sobbing uncontrollably while her family and friends hugged each other in tears" when the verdict was read. And my personal favorite, it reported victim Meredith Kercher's family "remained expressionless, staring straight ahead, glancing over just once at the distraught Knox family." I guess if you're going to make things up, they might as well be poetic.
The mistake led the Daily Mail to apologize to readers and change their policy on pre-writing articles, and now it will print the adjudication from the British Press Complaints Commission on its website. Meanwhile, we will continue to take all Daily Mail stories with a grain of salt the size of Greenland.
Daily Mail Censured For Fictional Story About Amanda Knox Verdict [Guardian]
Daily Mail Chastised For Erroneous Amanda Knox Story [HuffPo]