The Daily Mail published a story Wednesday in which the publication claims that former Congressman and prolific sexter Anthony Weiner was sending flirtatious and explicit messages to a 15-year-old girl, despite knowing she was underage. The DM published many, many screenshots of the exchanges, which include at least one photo of Weiner holding his son. Weiner doesn't exactly deny the claims, but said the whole thing might be a "hoax."
The Mail story is unusually fleshed-out and vetted: the tabloid spoke with both the girl and her father, who confirmed that his daughter told him about the sexts, which she says began in January of 2016. The girl says she spoke to Weiner through Twitter and Facebook DMs before moving on to the messaging app Kik— where he supposedly used the name "T Dog"— Skype, and then an app called Confide, which destroys messages soon after they're read. In one of their earliest exchanges, she told him that she was a high school student; it's unclear when she specifically told him she was 15.
In one Facebook message, Weiner sent a photo of himself and his son to the teen. The two are sitting in a lawn chair outside and the boy is cuddled in his lap wrapped in a blanket.
"Aw he looks just like you!" the girl wrote back, according to the screenshots. "Very cute!"
On Confide, the teen says, Weiner got much more explicit, telling her, "I would bust that tight pussy," adding that he would do that "so hard and so often that you would be limp for a week." The teenager also says that Weiner sent her pornographic videos, talked constantly about being erect while thinking about her, and asked her to engage in verbal rape fantasies, but backed off when she said she was uncomfortable.
G/O Media may get a commission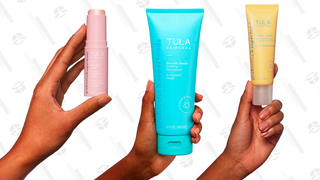 On Skype, the teen told the Mail, Weiner pressured her to undress and to masturbate over video chat, and stripped down to his boxers. She says he also sent her nude photos via Confide.
The girl told Weiner in an early message that she'd become "obsessed" with him, according to the screenshots published by the DM, and that she hoped to write a book about him.
When contacted by the tabloid, Weiner didn't deny that he'd been messaging with the girl, telling them in a statement:
'I have repeatedly demonstrated terrible judgement about the people I have communicated with online and the things I have sent. I am filled with regret and heartbroken for those I have hurt.'
Clearly, through repeated practice, Weiner is getting very good at issuing regret-filled statements. He also provided the Mail with two lengthy, somewhat confusing letters that the girl wrote, claiming could prove the whole thing was a "hoax." Weiner believed both letters were sent to a teacher; the girl told the Mail she actually sent them to a fake email address and to Weiner, intending them to be read only by him.
In the letters, the teen talks about her "obsession" with Weiner. She wrote the second one to him after talking to the Daily Mail; it scolds him for sexting with women online and warns him he's going to get himself in trouble. There's a line about "getting catfished by a dude," which seems to be what Weiner is referring to when he says the whole thing could be a hoax. From the letter:
I am worried about you. You are messaging anyone that flirts with you online. I am 15 years old. You got catfished by a dude! It will only get worse. It's time to retire. I want you to know that I'm not releasing the story for money. I am doing this to teach you a lesson. I want you to get help. I don't care if you hate me. I don't hate you, I care about you very much. I think this story will help you become a better person. I hope at least.
The girl's father told the Mail that his daughter, though she insists she doesn't regret her contact with Weiner, has suffered depression and sought counseling. He adds, "I hope I never come in contact with him. I'll be in jail if I come into contact with him."
Weiner deleted his Twitter account after his latest sexting scandal in August, in which he sent a picture of his semi-erect, boxer clad penis to a woman as his son lay curled up beside him asleep. New York's child welfare agency has opened an investigation into Weiner's conduct.
The Mail's story is spreading at top speed this morning, and it's fair to say that the last tattered shreds of Weiner's reputation are gone.