Last night, we once again got to feel the secondhand awfulness of divorce on reality TV. Sunday's Real Housewives of Atlanta captured the awkward and strange sense of detachment divorce breeds in a meeting scene between cast member Cynthia Bailey and her soon to be ex-husband Peter Thomas.
Bravo, of course, manipulates all of our emotions in the scene above and lets the silences hang for effect. But the content of the conversation is just as numbing as any non-televised split. Cynthia and Peter talk about why the cafe was the best place to meet—"I wasn't ready to come here. It feels weird me even being in this neighborhood right now," Peter laughs. And Cynthia gives him the "last bit" of his mail. At this point, they'd been living apart for months and it's clear the meeting is not for the purpose of small talk; only to exchange data about the divorce proceedings. While Peter seems emotionally invested in saving the relationship and says the divorce "is not a priority in my life," Cynthia appears procedural.
"You were at this place way longer than I was, so it's gonna take me a minute to catch up to you," says Peter. He tells her he realized the magnitude of their split when he had to provide an emergency contact in the hospital. "It hit me that it can't be you anymore," he says. Indeed, it seems like the minutiae of breaking a legally binding contract with another person is more painful than the bigger picture stuff. Cynthia, regardless, wants to keep the remnants their relationship as intact as possible, so this is the part where she breaks down. "I don't wanna hate you. I still wanna be friends with you," she tells him, crying. "I love you. I respect you. I just don't want to be married to you."
Cynthia and Peter's convo fittingly happens after she has a real chat with her daughter Noelle (from another relationship) about the divorce. Noelle, clearly perceptive, tells her mom of course she heard the arguments between her and Peter and knew her mother was unhappy. "It makes me question, do you have low self esteem?" she asks.
G/O Media may get a commission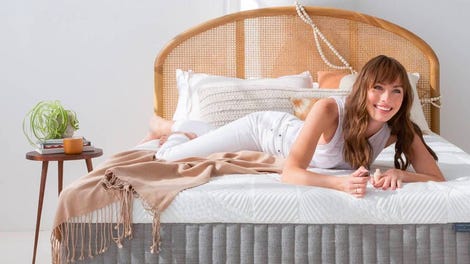 Sleep Sale
Sleep Sale - Brentwood Home
While Cynthia plays shocked (in the clip above), Noelle reasons, "I don't know anybody with high self-esteem that would just sit there and argue with the same person over and over again." How sad and dreadful to hear the truth from your own daughter.
In the aftermath of the split, meanwhile, Cynthia says she's done with marriage. "I couldn't give up Cynthia Bailey to be Cynthia Bailey Thomas. I was in love with Peter, but I'm just not wife material," she told Us Weekly. "I will never be in a relationship again where it will take a lawyer for me to walk away. I will never marry again."