Are you a bad feminist if your favorite vibrator is a snootily-named lint roller or a rubber duckie that's a "lovely shade of pink, elegantly dressed in feathered boa, and sports a decorative and fashionable genuine Swarovsky crystal beak jewel"? Obviously not. Choose your choice! You do you! Etcetera. But it's pretty disheartening how nearly every twee vibrator on the market is advertised as "non-intimidating" or "discreet."
I'm not saying you need to put a big fat dildo in your foyer. But it's still widely considered taboo for women to talk openly about masturbation, and masking self-pleasure behind a cupcake or mascara wand isn't helping matters.
Here are some of the cutest vibrators in existence.
---
It was only a matter of time before the cupcake vibrator became a thing. "Shopping for a 'personal massager' can be a bit embarrassing or daunting, given all the shapes, sizes, and interesting porn packaging they arrive in," the description reads. So put a cupcake on it! Gag. Related: fuck cupcakes. [Shiri Zinn]
G/O Media may get a commission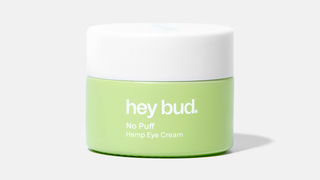 15% off
Hey Bud - No Puff Hemp Eye Cream
---
I'm very confused by this Geisha vibrator. What part do you rub against yourself? [Sexshopit]
---
Ladies!!! This bedazzled vibe has an "innocent appearance and subtle vibrations!" Cons: according to reviews, the vibrations are weak and the g-spot stimulator is disappointing. But it's so cuuuuuuuuute and Paris Hilton probably had one just like it in 2007! [Edenfantasys]
---
This strap-on butterfly vibrator is called a "posh butterfly lover." Repeat: it is called a :posh butterfly lover." I think Crysta from Ferngully would be super down. [Edenfantasys]
---
"Add stylish stimulation to your makeup bag with your new favorite sexcessory," a vibrator that looks like a mascara wand. Thnx but no thnx, Carrie Bradshaw. [sexshopit]
---
The Geekologie reviewer who wrote this post, "For The Ladies: Cute Little Vibrator Characters," admits she knows "almost nothing when it comes to sex stuff." I don't think she's being sarcastic. [Geekologie]
---
Of course there's a Hello Kitty vibrator, and of course it looks like the microphone on the dinky karaoke set I had when I was 5. [lovetoysex]
---
This "Love You" massager (can't even call it a vibrator, can we?) is for lovesick tweens who need something to doodle on during math class. [sexshopit]
---
"L'intimate" is one part lint roller, one part vibe that "elevates the level of class and discretion for women looking to maintain pleasure in their personal lives." It pairs well with a stick up one's Shabby Chic ass. [sexshopit]
---
The Paris Duckie "is a lovely shade of pink, is elegantly dressed in feathered boa, and sports a decorative and fashionable genuine Swarovsky crystal beak jewel." It's "adorable," and "discreet," obvs. The boa seems unsanitary? [Stockroom]
---
Is it just me, or do these look like butterfly hair clips? [Edenfantasys]